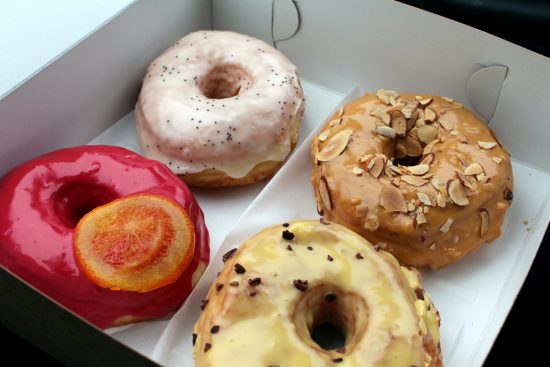 For doughnut lovers, the best month of the year is June, and the best day is today (June 6). That's because the first Friday in June has been designated National Doughnut Day, which will be celebrated on June 6 in 2014. It was established way back in 1938 as a way for the Salvation Army to raise money during the Depression for those in need. Today, the day is a chance for you to score a freebie or deal on your favorite glaze-covered piece of dough. Here are some of the offers you might want to go after if doughnuts are your thing:
Shipley Do-Nuts
Shipley Do-Nuts is a regional chain of about 300 shops in the south which offers the best National Doughnut Day deal out there. They offer a free doughnut and a free small cup of coffee to each customer for the event. The catch is that the free doughnut is restricted to only their glazed doughnut, and the offer only runs from 5:00 am to 12:00 pm on June 6.
Krispy Kreme
June 6 is a wonderful day to stop in at your local Krispy Kreme shop in the US or Canada, and it's probably the most convenient way for most people take part in the event who don't want to spend a penny. All participating stores offer a free doughnut of any variety to customers while supplies last. Best of all, there is no additional purchase necessary, making this a true doughnut freebie.
LaMar's Donuts
LaMar's is a regional doughnut shop, but they are giving away a true freebie. They're offering a free doughnut to each customer with no purchase required. The will also have Salvation Army pots in their stores to encourage donations to the charities, since they were the originators of this event.
Dunkin' Donuts
Dunkin' Donuts takes National Doughnut day as a worldwide event, so no matter where on the globe you happen to live, you can get yourself a deal. The problem is that their free doughnut isn't exactly free. All participating stores offer a free doughnut of any variety, but customers must purchase a beverage with it. A good deal if you always have a drink with your doughnuts, but not if you usually don't.
Tim Hortons
For the fifth year running, Tim Hortons will participate in the event. Like Dunkin' Donuts, their offer isn't exactly free. Customers can get a free doughnut who make any additional purchase of some type at their 870 stores across the US. Again, this could work out OK if you were planning to get something else with your doughnut, but it isn't all that great if all you want is one.
Honey Dew
Honey Dew is a regional chain of about 140 doughnut shops in the northeast which is offering a free doughnut, but not a true freebie. They will be giving away a free Oreo doughnut to all customers, but requires the purchase of a medium drink to get the deal. If you were planning on getting a drink, then it can be a deal, but not so much if you hadn't planned on it.
Cumberland Farms
This is another regional chain of 540 shops that will be participating in the event. They aren't offering a true freebie, but are giving away a free doughnut with the purchase of a hot or iced coffee. If you were already planning to buy your coffee, this can be a good deal, but it falls short of some of the others out there.
Local Doughnut Shops
There are hundreds of local doughnut shops across the nation which will also be participating in this event. As this event has grown in popularity over the years, it has trickled down to even the smaller doughnut shops. If you have a favorite local shop, stop in and see if they are having a promotion. In most cases, they probably are, although the promotion will vary from shop to shop.
(Photo courtesy of Wally Gobetz)