Does this card look familiar? Credit One Bank employs a very aggressive credit card marketing campaign. I first ran into them when I was applying for my first credit card. After applying for my Discover card, I received a pre-approval letter for this Credit One card. At first glance, I thought it was a Capital One card. I was excited! But as I read through the fees, I thought they seemed absurdly high. I looked at the envelope again and saw it was from Credit One Bank. I confused the two because the logos look so similar. The image above is Credit One, the image below is Capital One: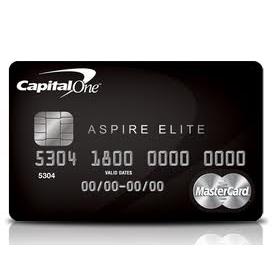 This irritated me. I decided not to even consider this bank because of their deceptive marketing tactics. Soon after this decision, Discover accepted me. But Credit One may be okay for someone who can't get approved for any other credit card. Thus, it's worth looking into.
Upon beginning my research, I ran into customer reviews on Credit Karma. They were grim:
Consumer Affairs rates this card a 1.4 out of 5 stars:
However, I wanted to ignore these reviews and see for myself what's going on. After all, some people get very angry with credit card companies for no reason. Usually, borrowers get mad at the lender when they ask for their money back. Silly.
Capital One Bank has one credit card, the Platinum Visa card. This card is for someone who has fair credit (650-699) or a thin file. A thin fine means they don't have much credit history. When either is the case, most people have two options: get a cosigner or get an unsecured card. Neither of these are very appealing options for most people. Thus, the Credit One Bank Visa may make sense.
This card is a no rewards credit card.
As far as fees go, it took a lot of research to uncover them. That's never a good sign.
There are a lot of fees: annual fee, express payment fee, fee for adding a cardholder, foreign transaction fees, and credit limit increase fees (wow). Most frustrating of all, there is no grace period with this card. The moment your Macy's charge posts to your account, interest begins accruing. With most cards, as long as you pay them off every month, you never need to pay interest. Credit One is being truly outrageous here.
Bottom line… this is the worst credit card I've ever researched. And I've researched a lot of credit cards. If you have fair credit, I encourage you to consider a secured credit card instead. It will cost less and in no time at all, you'll be able to get an unsecured card.
When looking for a secured credit card, look for one that reports to all 3 credit bureaus. If you use the card wisely, this will quickly build your credit score. Pay off the card each month and within a year, the card issuer will probably give you the green light for an unsecured card. As long as you're responsible, you'll have plenty of legitimate credit cards moving forward. It's just getting that first (good) unsecured card that takes some time.
Bottom line: Avoid the Credit One Bank Platinum Visa card. Instead, get an unsecured card while you build credit.