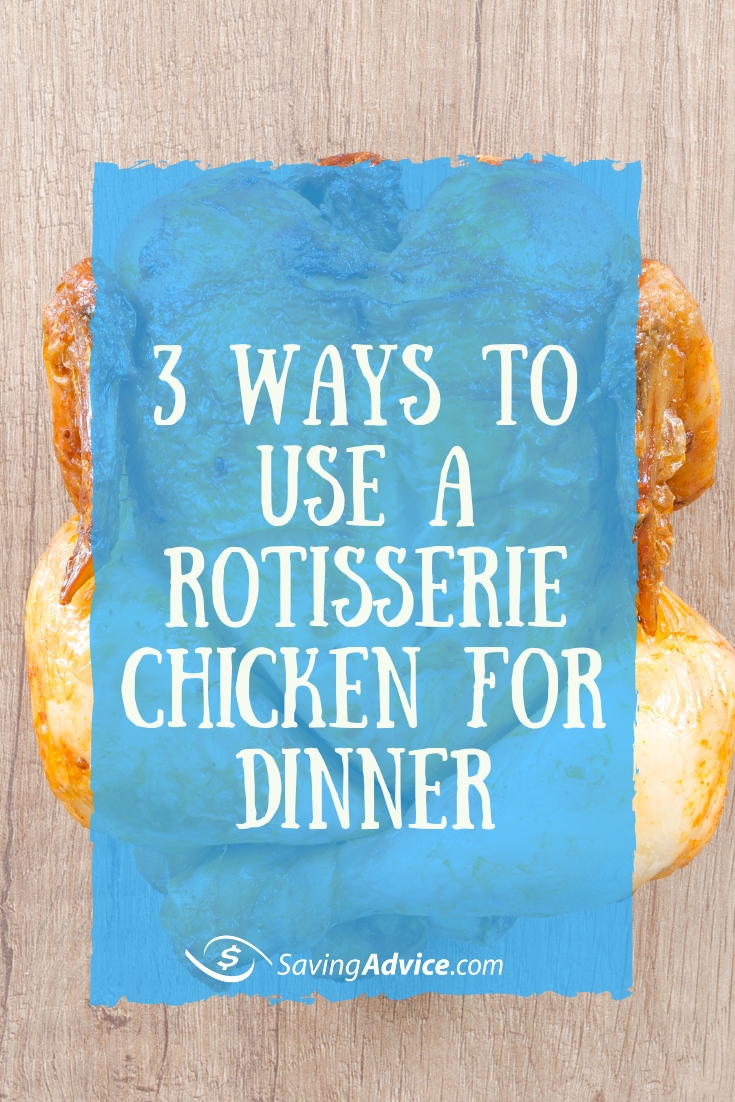 There are tons of ways to use a rotisserie chicken to make an amazing dinner. If you want to make the most of your rotisserie chicken, here are three ways to do just that.
Ways to Use a Rotisserie Chicken
Rotisserie chicken is available at nearly every major grocery store. They are often incredibly convenient dinner options since they are precooked. Plus, they are surprisingly affordable, allowing you to stretch your food budget. But, did you realize that a rotisserie chicken is also an incredibly flexible meal option?
1. As a Main Course
Serving a rotisserie chicken as the main course is often one of the easiest ways to use a rotisserie chicken. With a little carving and some simple sides, you can have a meal ready in no time flat.
Since most rotisserie chickens feature simple seasoning, they tend to be crowd pleasers. Plus, they can pair with nearly any side, ranging from salads to mashed potatoes to steamed veggies.
Unless you have a very large family, leftovers are common. Luckily, any extra chicken and the bones can help you create more amazing meals, ensuring you get the most out of every rotisserie chicken you buy.
2. As the Base for a Soup
After you remove the majority of the meat from a rotisserie chicken, you can use the bones to create an amazing chicken stock. Simply add water, onions, celery, garlic, salt, and pepper, and boil the bones. You can do this on a stove top or in a crockpot on high for several hours. However, if you have a pressure cooker or Instapot, making stock is much faster.
Once you have the broth ready, use cheesecloth to remove the bones, onions, celery, and anything else you added for flavor. Then, take your soup base and add veggies, leftover chicken, noodles, or anything else you would like.
After all of the veggies are cooked, you have an amazing homemade soup, all thanks to that simple rotisserie chicken. This alone can be dinner. However, you can also make rolls or a side salad if you want to make the meal even more filling.
3. For a Chicken Pot Pie
Making a chicken pot pie at home is usually a multistep process. First, you have to cook the chicken. Then, you gather the veggies, make gravy or broth, create a crust, add everything, and bake.
If you use a rotisserie chicken, you can skip the first step. This potentially saves you a ton of time, particularly if you use gravy from a mix or jar and frozen or refrigerated crust. If you decide to use simple, frozen vegetables instead of fresh – like frozen peas and carrots – your prep time is even smaller.
Now, the baking time is usually close to an hour, as you do have to make sure the crust cooks through completely. However, this part is very hands-off, so you do not have to keep an eye on it until you get close to the finishing time.
4. Chicken Salad
Need a quick sandwich, but all you have is rotisserie chicken. No problem. Start by peeling the skin off your chicken and then place the chicken in your blender. Blend the chicken for about 2 minutes (2 more if it's not fine enough). Dump the rotisserie chicken into your bowl. Add mayonnaise, relish, salt and pepper. Mix well. Presto, you have a great chicken salad.
Rotisserie Chickens Are Good for Your Budget
Ultimately, all of the ways to use a rotisserie chicken listed above can be great for dinner. Plus, if you get a large rotisserie chicken, have a small family, or both, you could feasibly make all three meals from a single chicken, giving you dinner options for several days. If you need to stretch your food budget, this is particularly beneficial. After all, few food items can be used for three different meals.
You don't even have to use all of the leftover chicken or stock at once. After making soup, you could freeze some for future use. Similarly, the chicken pieces could also be stored in a freezer for up to four months when placed in a zip-top freezer bag (with as much air removed as possible) or when vacuum sealed.
What are some other ways to use a rotisserie chicken? Share them in the comments below.
Read More:
If you enjoy reading our blog posts and would like to try your hand at blogging, we have good news for you; you can do exactly that on Saving Advice. Just click here to get started.