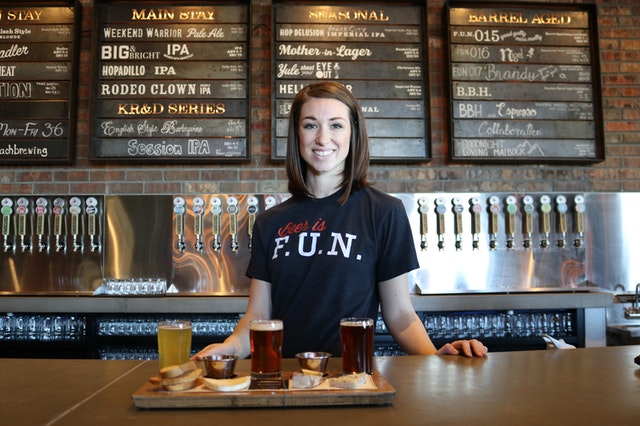 Due to the pandemic, small businesses need our support now more than ever. As of September, nearly 100,000 small businesses have closed their doors for good because of COVID-19, and many more are struggling. 
In an effort to help, we've all been donating to GoFundMe campaigns, purchasing gift cards, and ordering as much takeout as we can. But if you're looking for new ways to support small businesses during this difficult time, check out SMBX. 
What is SMBX, and How Do They Support Small Businesses? 
SMBX is an awesome investment platform that allows you to purchase small business bonds from local brands you love. If you're not familiar with small business bonds, they're basically like loans.
A bunch of individual investors like you and me can purchase a company's bond through SMBX. The proceeds from the sale of the bonds go to that local small business (minus a small processing fee) so they can use the money to grow. 
The best part is that you can get a return on your investment, so it's a win-win for you and the company. You could earn up to 9% interest from your bonds and receive principal and interest payments every single month until they mature. 
Keep in mind that all investments have risks, though—so it's recommended that you don't invest more money than you can afford to lose. But if you have extra cash in your bank account and want to put it to good use, SMBX is a great place to invest it. 
My Experience with the Sign-Up Process 
Investment platforms can sometimes be hard to navigate, but not SMBX. It has an attractive, user-friendly interface that makes signing up a breeze. The whole process took me under 15 minutes, so it's easy to fit investing into your busy schedule. 
First, you have to create an account by entering your name, date of birth, address, and email. 
You'll also be asked for your estimated annual income and net worth. If you've invested any money in crowdfunding over the past 12 months, you'll have to enter that too. SMBX needs this info to calculate your investment limit. 
Then you can connect your bank account or credit card to the platform and start investing. There's a 4% surcharge on credit cards, but buying bonds with your bank account is completely free. I chose to link my bank account, which was super easy. 
SMBX uses a data transfer network called Plaid that allows you to securely sign in to your bank account. I just had to enter my login details, account number, and routing number, and I was ready to go. 
Investing with SMBX 
Now for the fun part—picking which businesses you want to support!
SMBX currently has 15 different small businesses you can invest in. They add new bonds all the time, which allows you to keep expanding your portfolio. 
Each small business bond has a dedicated page with lots of information about the company. 
On the right-hand side of the page, there's a quick bond summary with bond duration, yield, and the minimum and maximum amounts of money the company needs to raise. You can also see when the fundraising period is set to end and how much money has been collected so far. 
Further down the page, there's an about tab where you can learn more about the founders and how they started and grew their business. All of the stories I read were really inspiring and worth taking a few minutes to read. 
There's also a section about how they plan to use the funds to grow their operation and achieve their goals. I loved seeing how my investment would benefit the company and make a real difference. 
Under the documents tab, you can access the bond prospectus, which gives you detailed information about the investment. There's also a link where you can view the company's financial information. 
And if you're short on time, there's a handy summary of important details from the bond prospectus and the company's financials.
Buying a Bond 
With so many worthy businesses to choose from, it's pretty hard to decide which one to invest in. I spent a good 30 minutes reading each company's story and learning about their products. 
There was a keto cookie company, a minority-owned trucking business, and more, so it was a tough choice. But ultimately, I decided to invest in Jule's Foods, a vegan cheese company based in California. 
I eat a plant-based diet, so I always want to support small businesses that produce delicious food for people with dietary restrictions. I was also inspired by Julie and her husband Stephen's story. 
They decided to adopt a healthier plant-based diet after Julie was diagnosed with Stage 4 colorectal cancer. Now they share their lifestyle and love of fine foods with others through their business. 
Once I decided which company to choose, the process of buying the bond was easy. You just have to hit the yellow button on the left side of the screen that says "buy bonds" and a separate window will pop up. 
Then you can enter how much money you want to invest. SMBX has a minimum investment of just $10, which enables you to get started even if you don't have a lot of spare cash. I chose to put in $50, which got me 5 bonds. 
You'll also be able to see the estimated return based on how much money you plan to invest. The bond I picked has a 7.5% interest rate with an estimated total return of $60.11 on my initial $50 investment. That means I can expect to receive around $1 per month over the total duration of the bond, which is 60 months. 
Receiving Your Bonds

A few business days after the fundraising period ends, I'll get my electronically signed bond certificate and start receiving interest and principal payments soon after that. I'm looking forward to seeing how my investment performs! 
One thing to keep in mind is that you can't sell or transfer your bond for at least a year, and there's no guarantee you'll be able to find someone to buy it after that. If you need an investment that's fairly liquid, small business bonds aren't the best choice. 
I don't need to access my money anytime soon, so that doesn't bother me, especially since I'm supporting small businesses. 
Wrapping Up 
Buying local is really important during the pandemic. But if you want to support small businesses even more, investing in bonds through SMBX is a great way to do it. 
I thought signing up and purchasing my first bond was easy. I liked how much information SMBX provided to help me make a good investment decision and learn more about amazing local businesses. 
It was pretty tough to decide which business to invest in, so I could definitely see myself making another investment in the near future. The bonds provide a high return of up to 9% and support awesome companies, so it's really a win-win. 
I'd highly recommend the platform to anyone who wants to invest in local American businesses to keep our economy and communities strong. 
If you want to try out SMBX, you can sign up here. Let us know which small business bonds you buy!