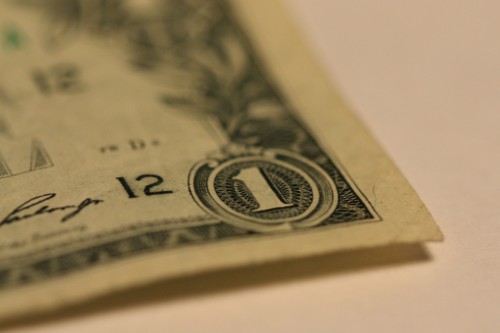 If you've decided to participate in the
365 Day Money Challenge
, as part of the challenge you need to make a payment to yourself each morning. In order to do that, you'll need to begin thinking about simple changes that you can make to save money, as well as steps that you can take to earn more money in your spare time. By implementing both money saving and making opportunities, you'll ensure that you have plenty of extra money to put toward the challenge. To get you started, here are 31 things you can do in January to help make sure that the challenge gets off to a great beginning.
1. Reduce Shaving Costs
Buy an electric razor or a safety razor to replace disposable razors. If you like disposables, sharpen them by running them across your jeans 20 times in each direction (see video) so they last a month or more longer than usual:
Here are some more simple
tips on how to save money on shaving
.
2. Avoid ATM Fees
Take a look at your bank records to see how much you have been paying in ATM fees. The answer should be $0.00. If you have paid ATM fees in the last year, you need to create a strategy where you will only use ATMs at your bank or credit union where there are no fees.
3. Improve Your Driving
Learn to be a better driver and increase the gas mileage you get. Don't rev the engine or sprint start. Use cruise control on the highway. Drive the speed limit. Making minor changes to your driving habits can greatly increase your gas mileage. You can even save more gas with these tips.
4. Buy Discounted Gift Cards
Buy gift cards for retailers you frequent on the secondary market at discounted prices. You can usually get gas gift cards for 5% – 10% off retail. Grocery store gift cards can be found for about 5% off. Other retailers can be found for as much as 20% off. As long as the cards are for stores you frequent and for purchases that you'd regularly make, all the discounts are savings over paying by cash or debit card.
5. Take Advantage of Discounts
Take advantage of the discounts that are available to you. If you're a student, always ask for a student discount. Check with your personnel department to see if your work offers discounts at local businesses. If you're a member of AAA, become familiar with the discounts they offer. Always be on the lookout for discounts that are available to you.
6. Look for Lost Money
As you walk along this year, keep your eyes on the ground to find lost coins. There are plenty of places to find them. Even if you find only a few coins all year, they can still help toward days of the challenge.
7. Collect Box Tops for Education
Most people don't know this, but Box Tops for Education are worth money and they're easy to sell to parents who want to give them to their kids. Instead of throwing them away, save them, sell them, and use them to help you reach the challenge goal.
8. Use Your Library
Your library is a wonderful resource which can help you cut costs in many areas. Take some time to find out all of the things it has to offer, including all of the free services. You'll likely be surprised by what they can offer and how much you can save with their resources. While you're there, check out a book or two on personal finance and saving money.
9. Drink More Water
Start drinking more water to improve your health, and to cut down on the cost of other beverages. Doing so can save you $1000 in a year. The more water you drink, the less you will spend on other beverages.
10. Sell Stuff You Don't Need
There's a good chance that you have a lot of stuff around your house that has value, but you're not using. If that's the case, sell it. Not only will you get some extra money for it, you'll be decluttering you place. There should be plenty of opportunities to do this throughout the year.
11. Wash Clothes in Cold Water
Unless your clothes are super dirty, there is no reason these days to wash them in hot or warm water. Most detergents work wonderfully in cold water, and your clothes should come out just as clean. Give it a try and it could save you quite a bit, since you'll no longer need to heat water to wash your clothes. Here are some other tips that can save you money when washing clothes.
12. Buy Food in Season
There are many ways to save money on food, but one of the easiest is to learn to buy only fruits and vegetables that are in season. They taste great, and they're a fraction of the cost of out of season produce.
13. Cut Back on Buying a Daily Coffee
If you're in the habit of buying coffee on a regular basis, attempt skipping that cup at least once a week. You could also start making coffee at home and taking it with you to reduce the costs. You can even try to score free coffee.
14. Clip Coupons
Get in the habit of keeping your eyes open for coupons that you can use. Just be sure that they are for products that you already use which would buy even if you didn't have the coupon, and not for new products that you've never tried before. Each coupon you use this way is just extra money in your pocket.
15. Don't Drive Short Distances
When you need to go a short distance, choose to either walk or bike instead of getting in the car, at least some of the time. It's a great habit to get into that will not only reduce your gas costs, but it will also help you get into better shape.
16. Take Advantage of Free Events
When you're looking for entertainment, try to find options that are free. Many museums have a day each month with free admission. National Parks offer free entrance days several times a year. Local colleges and community centers may also offer entertainment at no cost.
17. Make Your Own Cleaners
The cleaning liquids you buy at the store can be quite expensive. Instead, opt for making your own cleaners for pennies on the dollar. They work just as well and they are more environmentally friendly as a bonus.
18. Cancel Memberships
A lot of times we join clubs and other facilities with the best intentions, but then life happens and we don't use them like we imagined we would. Take the time to evaluate whether you're getting the value out of any memberships that you are paying for each month. The ones that you aren't using, cancel.
19. Use Half
Start using less of all the things that you have around the house. Many of the products that you use, you can use half the amount and they will still work perfectly well. Start with these 25 examples and try to find even more.
20. Check Your Dollar Bills
Start looking at the serial numbers of all the currency that you get back as change. If you get a bill that has a coveted number, it can be worth quite a bit. It only takes a second to look and could help you complete the challenge.
21. Pay Bills Online
If you haven't already done so, check to see if you can pay your monthly bills online instead of by mail. It's not only more convenient, you save the cost of the stamp and envelope as well. it can also help reduce the likelihood of a late payment and the fees that correspond with it.
22. Get an Energy Audit
Contact your local utility company and see if they offer free energy audits. Many do. If they don't, they may offer them at a greatly discounted price. By getting one, you'll see where your house is costing you money, and you'll learn how you can fix those issues. You can also do a free home energy audit through Home Energy Saver which will let you compare what you pay with others in your area.
23. Maintain Your Weight
Get yourself to a healthy weight and maintain it. While there are numerous health benefits for doing this, it can also save you a fortune on clothes since you won't have to be constantly buying new outfits.
24. Get on the Phone
Making a few phone calls can save you quite a bit of money and often times, all you have to do is ask. Here are ten that you should make at least once this year.
25. Pay Bills on Time
If you have ever made a late payment, and got charged for doing so, then you need to get yourself better organized so that it doesn't happen again. One of these mistakes could be worth several days of payments toward the challenge, and there really isn't an excuse for it. Take the time to put in a system so you know exactly when bills are due so that you don't pay a late fee this year.
26. Watch Less TV
This is one of those tips that doesn't seem like it will save you money on the surface, but really does if you start to practice it. In fact, it could give you the opportunity to create a whole new business and fund your entire retirement account. Start watching less and doing more of the things on your goal list.
27. Buy Used
If you need to purchase something, see if you can purchase it used instead of new. Most items drop drastically once they leave the store, so it's possible to get new / nearly new items for much less, that still work great. Getting in the habit of purchasing lightly used products can save you a bundle of money.
28. Pack Your Own Food
Whether it's a lunch for work or a meal and snacks for a day trip on the weekend, packing your own food will save you a lot versus eating out. Even better, you choose what goes in so it can be healthier. It takes a little time and effort to get into this habit, but it pays off tremendously for your pocket-book.
29. Throw in a Dry Towel
The next time that you need to use your dryer, throw in a dry beach towel along with the wet clothes (in fact, go and put one by your dryer right now so you remember to do it every time). The dry towel absorbs some of the moisture from the wet clothes enabling them all to dry faster. This cuts down on the time needed to dry them and the energy needed to run the dryer.
30. Fiverr
Take some time to think if there is anything that you would be willing to do or sell for $5. Maybe you have a skill that others might desire or you can make something that others want. Fiverr is a place where everything on offer is for $5. If you can find something that you don't mind doing in your spare time at this price, this can be a great way to earn a bit of extra money.
31. Pet / House Sit
There is a good chance that there are families in your area who would love to find a reliable person who is able to pet / house sit for them. Most people don't think of this as something to do in their spare time, but it can be. The best part is once you get a good reputation, you'll have more work than you know what to do with.
These are just a few ways that you might be able to save or earn some extra money this month to help cross off some of those higher numbers on your challenge sheet. Adopt the ones you can and replace the ones you can't with some other way to save or earn a little more in your spare time.
365 Day Money Challenge (click on image to print)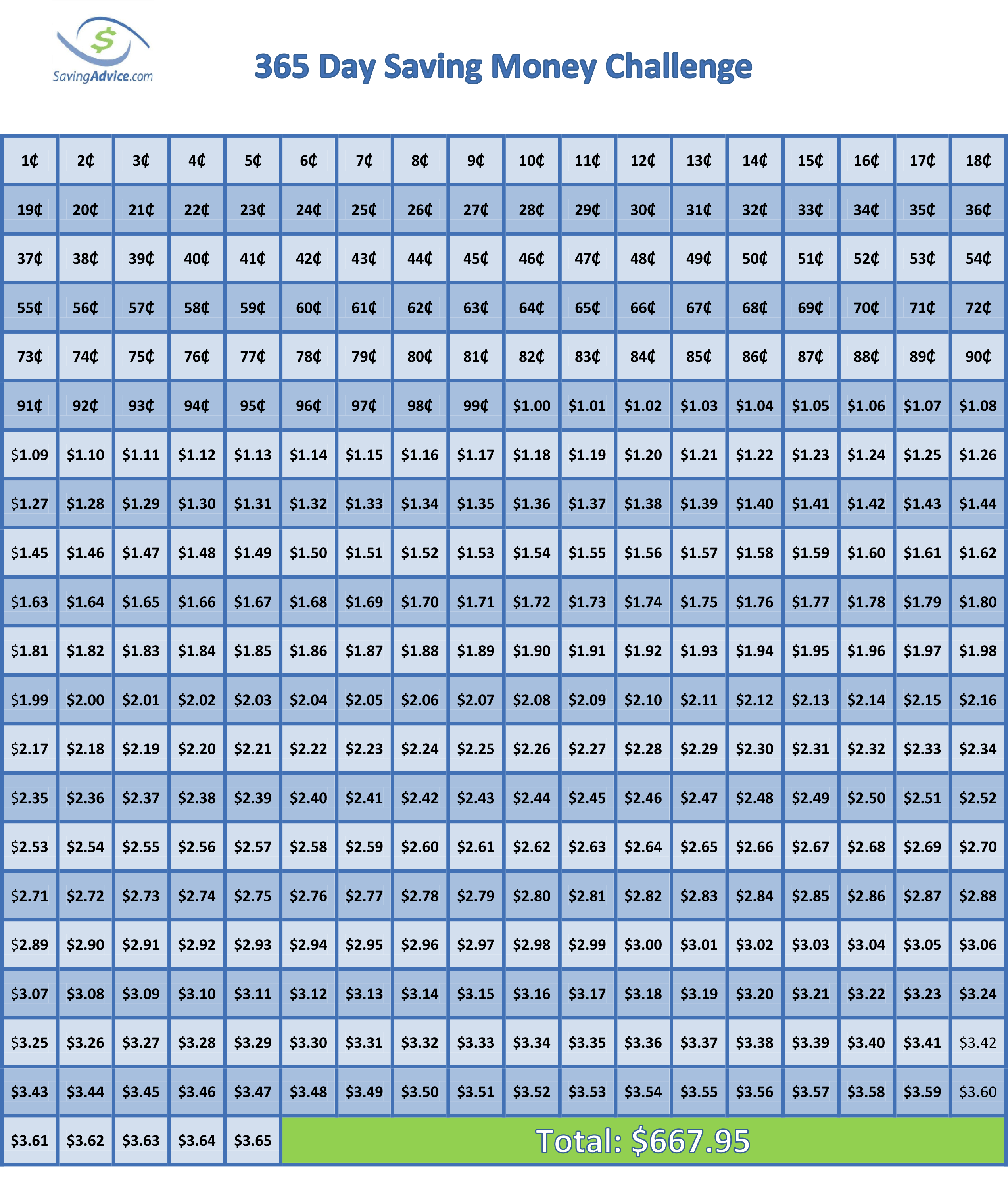 (Top photo courtesy of Kristy Johnson)