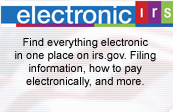 Free File is a program going on its
fourth year where a number of the top
tax software companies offer their
software for free to those filing taxes
through the Internal Revenue Service's
website. Basically what happened was
that the IRS wanted more people to
file online because it costs them a lot
less and was going to develop their own tax software which scared the tax software companies (becasue if the IRS is offering free software, why would you buy other tax software?). Instead, the software companies agreed to allow their software to be used for free in the program to certain segments of the population and the IRS agreed not to develop its own tax software.
Last year there was some heated competition and many of the software companies offered their service for free to anyone. This year is seems that have come to an agreement that anyone with an adjusted gross income (AGI) of $50,000 or less will qualify for the program (although each company sets their specific criteria). The IRS says this is 70% of the population is eligible for Free File with this parameter.
The key to being able to file for free through this program is that you must go through the IRS website. If you go directly to the tax software company's website, you will be charged for the same service. You don't have to purchase any product in order to qualify for the free services, but in all likelihood you will be offered add on services for a fee such as efiling your state taxes. Ignore these advertisements unless you feel they are worth the price.
One of the changes this year is that the companies who offer Refund Anticipation Loans (RALs) must disclose the fees and interest rates upfront and must make clear that RALS are loans, not tax refunds. RALs are one of the worst type of loans you can get, with 100%+ APR common. This is especially true since if you opt to have your tax refund check direct deposited in your bank, it will only take about 10 days to receive it.