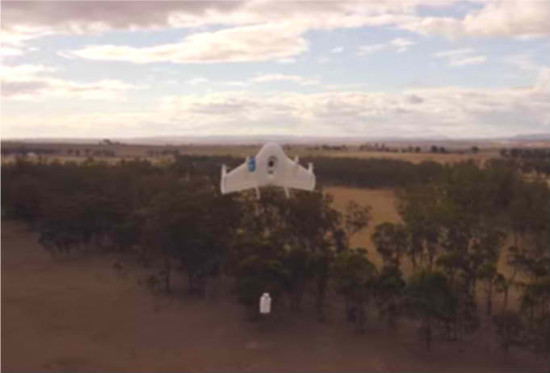 Google X, the division that works to create Google's more innovative and futuristic developments, has recently uploaded a video to their YouTube page showcasing their prototype drone's test flights. The video was recorded showing the tech giant's drone in Queensland, Australia.
Google has already made deliveries to rural farmers in Australia – goods like chocolate to simple electronics such as radios. Though commercial use of drones for delivery probably won't happen for at least another few years. The use of drones, also referred to as remote controlled air crafts, are legally permitted for hobbyists to use, but drone flight is banned for use in most commercial instances.
It is no secret that these online mega stores are pushing for the development of a more efficient same-day delivery service. Google's main competition here would be Amazon, who just last December showcased their Prime Air Drone to the public. Both Google and Amazon are developing drones that can fly all by themselves using routes programmed into the machine's computer. Speculators are under the assumption that Amazon will launch their Prime Air for public consumers in India before they get the go-ahead from the United States government department responsible for regulating all air traffic.
Google has applied for permission to extend their drone testing program here in the United States with the Federal Aviation Administration (FAA), though the status of this application is currently unknown. Public opinion on the effects of these unmanned, commercially owned aerial devices is mostly divided. Those in favor of the possibilities argue that the electric devices would reduce the overall carbon-footprint of consumers by giving them the option of receiving their purchase the same day, without the need for driving down to the store to pick up their new products. While others aren't so sure.
I wouldn't exactly hold my breath, but it seems that drone deliveries are the future, and I don't see development for it slowing down any time soon. With other major delivery companies like Domino's also working on drone programs, you're probably going to be receiving most of your goods via futuristic delivery robots programmed to get there fast, satisfaction possibly guaranteed!