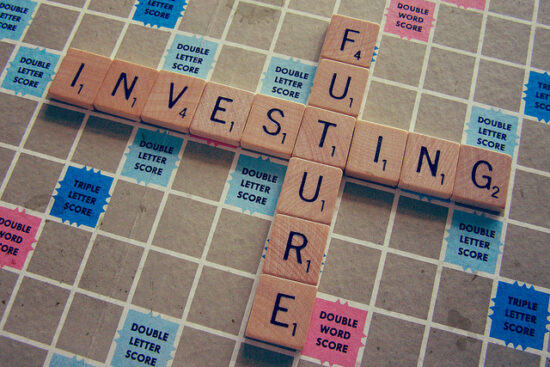 The quest for income in retirement is the holy grail to many investors. For those looking for income from bonds, there is a bit of good news. The ten year treasury yield is up to 2.4%, up from the lows of 1.4% in 2016.
But a 2.4% yield still barely beats inflation, especially if the interest payments are in taxable accounts. This will not be enough for the vast majority of retirement portfolios out there.
So what other options do investors have? We have found that there are still plenty of strong dividend payers out there that generate stable income and have lower price volatility than the overall stock market. This leads to our latest retirement income strategy.

Stable Companies
Utilities have long been known as boring dividend payers. But the boring part means stability for investors in terms of the income they provide. The same thing goes for the large, established integrated oil and gas companies such as Exxon, Shell, and Chevron. These companies have shown a long history of paying out dividends with increases in dividend payments year after year.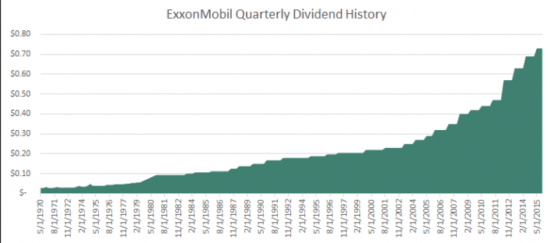 Another interesting take on combining utility companies with energy companies is the fact that they are negatively correlated and can help offset each other in a portfolio. In general, if oil and gas prices go up, it's a good thing for those in the oil and gas business. But this is not a good thing for utility companies since oil and gas are used as inputs for most of them.
Owning both utility companies and energy companies can dampen volatility even further than their stable dividend payments will.
Our List
Without further adieu, below is our list of utility and energy companies that can provide a strong income flow in retirement without much volatility. All of the companies below have increased their dividend payouts for at least ten years in a row, and many have them have done this for decades.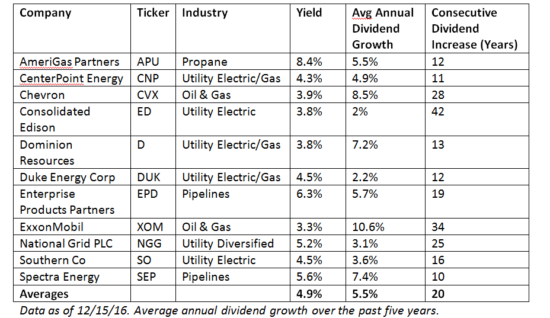 If we equally weight this entire portfolio, the average dividend yield would be about 5%. The dividend growth rate would also be about 6% per year. If you combine these two variables, this produces an average annual return of 7.6%, all just from the dividends!
A Case Study
Let's take a look at a couple that is 60 years old. They are not sure if they are set up for retirement. They don't know if or when they will run out of money. Currently they have $750,000 in investments and they project their spending to be $55,000 per year in retirement.
What happens if they move all of their money into treasury bonds? If we run their plan through the WealthTrace Monte Carlo simulation, we see these results: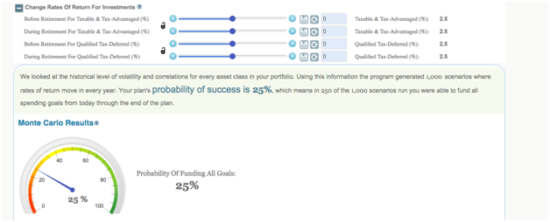 This would be a disaster for this couple. Only having a 25% chance of not running out of money is a serious problem.
One wrinkle here is that this couple is very afraid of stocks. They were burned in 2008 and worry that it will happen again. But what if we present them with our low volatility portfolio from before? If we enter those dividend payments into their financial plan we see that their probability of never running out of money jumps all the way up to 100%!

Finding stable income in retirement is not the easiest thing in the world these days. But we have done the research and the companies we present here today can make all the difference between running out of money in retirement and enjoying a stress-free retirement where the dividend checks pay for all of your expenses every year.
Photos courtesy of Chris Potter and Doug Carey