Symbicort Coupon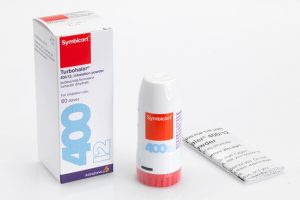 Asthma is a respiratory medical ailment that causes the narrowing, inflammation, and mucous blocking of airways. The airways from the mouth to the lungs become so narrowed and inflamed that breathing becomes aggressively laborious and nearly impossible. About one out of every 13 people suffers from asthma. That is the equivalent of over 25 million people, which may be a conservative estimate.
Asthma is not curable. It can be controlled if medication is administered before symptoms become too severe. Symbicort has been proven in clinical studies to be quickly absorbed into the lungs and alleviate asthma symptoms within 15 minutes. If you qualify, you could get a year's worth of Symbicort prescriptions free with the Symbicort savings offer.
The average Symbicort prescription costs $33 a month, or, about $400 annually. AstraZeneca, the makers of Symbicort, has a convenient health insurance cost evaluator which can help you determine your out-of-pocket costs.
If you are uninsured, how much you pay for a Symbicort prescription is ultimately decided by the pricing metrics of your local pharmacy.
Qualifying applicants will receive their Symbicort prescription free for an entire year with the Symbicort savings offer.
How Symbicort Works
Symbicort is a corticosteroid that contains budesonide and formoterol and is manufactured by AstraZeneca.
Symbicort works as a bronchodilator inhaler medication.
When inhaled, Symbicort reduces inflammation in airways and the lungs. It also relaxes the muscles so that the narrowing of airways incrementally reverses and becomes less severe.
Symbicort is not meant to replace an asthma rescue inhaler. Symbicort does not immediately relive the abrupt onset of asthma. It is medically designed to control asthma induced symptoms like wheezing, shortness of breath, chest tightness, and so on, incrementally over time.
Symbicort also controls the airflow blocking symptoms caused by chronic obstructive pulmonary disease, also known as COPD. While the airflow blocking conditions caused by asthma can be controlled and reversed, the effects of COPD are irreversible.
COPD is a lung disease that develops over an extended period. Smoking is the primary cause of COPD followed by prolonged and intermittent exposure to chemical irritants.
Symbicort has been proven in clinical trials to be effective in incrementally controlling asthma and COPD symptoms within 15 minutes.
However, the full recuperative benefits of using Symbicort ultimately depends on how often you need to use it. It may take 14 days before your body experiences the full effects of Symbicort as your body adapts to its use.
Now, you could get a year's prescription of Symbicort for free if you qualify via the Symbicort savings offer.
Symbicort Savings Offer
Logon to the official Symbicort website to apply for the Symbicort savings offer. You will be prompted to input your name and email address.
If you qualify for the Symbicort savings offer, you will then be prompted to print out your savings card.
Those with private or employer-sponsored health insurance are more likely to qualify for the Symbicort savings offer.
If you have federally sponsored health insurance, or are uninsured, you may be able to acquire Symbicort via the AstraZeneca Prescription Savings Program.
If you suffer from asthma or COPD, consult with your doctor about the appropriateness of a Symbicort prescription.
And apply for the Symbicort savings offer to see if you qualify for a free yearlong prescription.
Read More
How to Save Money on Prescription Medication
FDA Warns of People Abusing Their Pets' Opioid Prescription
The High Cost of Some Prescription Drugs Can Be More Than Most Automobiles
AVAILABLE COUPONS Results for: Category:

all

Query:

all
There are no results found, please try another search.