Evamist Copay Card
A hot flash is a serious medical condition that can be reasonably be described as chronic pain for many women. Over 33 percent of women contend with 10 hot flashes each day or more. About 87 percent of women have at least one hot flash every single day. Hot flashes can have adverse effects on a woman's ability to perform daily activities. For over 15 percent of women, hot flashes can become a lifelong, chronic condition that negatively affects psychological well-being. The most reliable treatment for hot flashes has been the application of synthetic estrogen medication. Evamist has been clinically proven to reduce the most severe symptoms of hot flashes. With the Evamist copay card, you will only pay $25 for each Evamist prescription applicator.
Evamist Copay Card Basics
The typical cost for a daily, 56-dose Evamist spray applicator is $123 to $190, depending on where you purchase it.
The best way to explain how the Evamist applicator works, especially as a synthetic hormone replacement therapy, is to examine hot flashes first.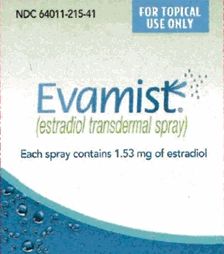 Hot Flashes 101
Hot flashes are extremely uncomfortable symptoms that are caused by the onset of menopause.
Menopause causes the female body to produce less estrogen and eggs. The surgical removal of ovaries can also cause the onset of menopause.
Women experience hot flashes as intense feelings or temporary, "flashes," of heat occurring on the face and areas on the upper body.
Hot flashes are then subsequently followed by intense sweating and chills, especially if it happens at night.
Hot flashes are also known as, "vasomotor menopausal symptoms.," or, "hot flush."
For some women, hot flashes can typically be an occasional annoyance for a few weeks or a few months.
Other women can experience hot flashes daily for months, years, and even decades. For a small percentage of women, it's a lifetime problem.
Hot flash episodes can be mild, moderate, or severe discomforting in intensity. Hot flashes can be severely impairing psychologically or a life-altering and chronic condition for some women.
Some women can unfortunately experience 10 or more hot flashes daily.
Hot flashes can cause:
Frequent or permanent disruption to the normal sleep cycle
Intense, pendulous emotional mood swings
Discolored and splotchy patches of skin
Intense and long-lasting panic attack episodes
Heart palpitations
Life-altering disruptions to daily routines and work-life
A typical hot flash can last anywhere from 1 to 5 minutes. Some hot flashes can last a lot longer than that.
How Does Evamist Work?
Estradiol is a synthetic form of estrogen. Evamist is the brand name of an estradiol transdermal spray manufactured by Perrigo.
Evamist is manufactured in the form of a spray misting applicator. The applicator is pressed firmly against the inner forearm above the elbow. Then once sprayed, the Evamist spray is absorbed through the skin and then enters the bloodstream.
Once absorbed into the bloodstream, Evamist acts as a supplemental form of estrogen and helps reduce the intensity of hot flashes.
You can apply Evamist once to three times daily. Your required dosage must be exactingly determined by your doctor alone.
Don't wash the Evamist application site for at least 60 minutes. Cover the application site to ensure the transdermal transfer of Evamist does not occur with others, especially children.
Evamist Copay Card
If you qualify for the Evamist copay card, you will only pay $25 per prescription. With the Evamist copay card, you save up to $70 on copay or out-of-pocket expenses.
Apply for your Evamist copay card here. This offer is only eligible for those with private or employer-sponsored health insurance.
However, after the first $25 discount, you must pay out-of-pocket for any amount over $70 for your Evamist prescription.
There are already too many women suffering from hot flashes without relief. Talk to your doctor about the appropriateness of an Evamist prescription today.
Read More
How to Save Money on Prescription Medication
FDA Warns of People Abusing Their Pets' Opioid Prescription
The High Cost of Some Prescription Drugs Can Be More Than Most Automobiles
AVAILABLE COUPONS Results for: Category:

all

Query:

all
There are no results found, please try another search.