Enbrel Coupon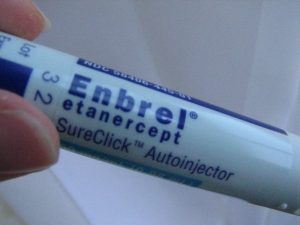 Millions of people can't function without daily medication relief from arthritis. If you're adversely affected by arthritis, Enbrel may help you. And now with the Enbrel copay card and financial support enrollment program, you can save thousands every month on your insurance copay.
The average weekly cost for an Enbrel subscription via private health insurance is almost $1,400 weekly. This is the usual cost for a 50 mg per week dosage prescription.
If you qualify for the Enbrel copay card, you could pay anywhere between $50 to $470 monthly for your regular Enbrel prescription.
You may also qualify for the telehealth support services courtesy of the Enbrel Nurse Partners program. Through this program, you'll be given medical administration support and advice regarding your Enbrel prescription.
If you suffer from arthritis or plaque psoriasis, Enbrel can offer you pain relief.
Etanercept is a biologic medical treatment manufactured by Amgen and sold under the brand name Enbrel. A biologic is a drug created from the cell components of living organisms.
Enbrel suppresses an enzyme activator of inflammation which causes pain in joints and damaged joint tissue. This enzyme is called tumor necrosis factor, or TNF. It's an enzyme that helps the human body fight off infection.
Some bodies produced more TNF than necessary, which causes the immune system to mistakenly attack normal cells. Arthritic conditions can be listed as an autoimmune disease.
Enbrel suppresses the excessive production of TNF and provides pain relief. Enbrel is packaged in preloaded, "click-pen," syringes which are self-injected under the skin in weekly or bi-weekly doses.
Enbrel treats five inflammatory medical conditions:
Rheumatoid arthritis
Psoriatic arthritis
Juvenile idiopathic arthritis
Ankylosing spondylitis
Plaque psoriasis
Plaque psoriasis is a condition where dead skin cells over-accumulate on the skin and cause the formation of scaly, dry patches.
Applying for the Enbrel Copay Card Savings Program
To apply for the Enbrel copay card savings program, visit the official enrollment page. You'll be asked to supply personal information like your address, phone number, and email.
Or, call 1-888-4ENBREL
You can only apply for the Enbrel copay card savings program if you currently have an Enbrel prescription. Talk to your medical provider if you don't currently have one.
Most patients use an Enbrel click pen syringe once or twice a week, or the equivalent of a weekly 50 mg dose.
Amgen states on its website that a weekly 50 mg prescription can cost as much as $1,400.
You can bring those costs down significantly with an Enbrel copay card. Exactly how much you will save on your prescriptions depends on your insurance.
If you have a private or work-sponsored health insurance policy, you could pay between $50 to $470 monthly with an Enbrel copay card.
Those on a Medicare plan could pay between $50 and $415 on their monthly prescription.
If you have a Medicaid plan, you could pay anywhere between $10 to $240 a month on your Enbrel prescription.
Don't have any health insurance? The Amgen Safety Net Foundation can connect you to nonprofit social agencies to help you source affordable or free subscriptions.
Over 54 million Americans deal with arthritis. If you need relief from chronic joint pain, ask your doctor about Enbrel. Don't forget to apply for the Enbrel copay card savings program.
Read More
How to Save Money on Prescription Medication
I SAVED 30% BUYING GENERIC BLOOD PRESSURE MEDICATION OVER THE BRAND NAME
Prescription Hacks That Can Save You Thousands
Most Affordable Ways To Get Your Pet Medical Treatment
AVAILABLE COUPONS Results for: Category:

all

Query:

all
There are no results found, please try another search.