Effexor XR Coupon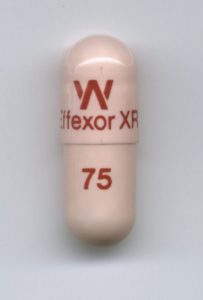 Effexor XR is a kind of extended-release medication that is designed to incrementally treat depression and mood disorders. It is known as a novel antidepressant, a drug that is formulaically designed to release its dosage over an extended period for maximum effect.
Scientific research has shown that Effexor XR is effective in patients when used over 6 months. Talk to your doctor about whether Effexor XR is appropriate for your medical needs. You may qualify for the Effexor XR savings card, which allows you to pay $4 for a monthly prescription.
The average cost of a 30-day supply of Effexor XR can cost as much as $500. If you qualify for the Effexor XR savings card, you can save as much as $1,800 annually on your Effexor XR prescription.
Effexor XR is the generic form of a drug called venlafaxine. Effexor XR is FDA approved and has been manufactured by Pfizer for almost 20 years.
Depression and depression-related manic disorders affect over 7 percent of the population every year. Effexor XR is chemically formulated to help people grappling with depression lead productive lives.
Effexor XR is scientifically classified as a serotonin-norepinephrine reuptake inhibitor, or, what is known as an SNRI. Serotonin and norepinephrine are chemicals found in the brain that are believed to activate feelings of positivity, alertness, and energetic spiritedness.
These brain chemicals are believed to affect positive moods. Effexor XR chemically alters the natural balance of these chemicals and the signals they send and receive from the brain.
In other words, Effexor XR blocks the body's natural absorption, or reuptake, of serotonin and norepinephrine. The extended-release nature of the drug keeps the body medicated, increases levels of serotonin and norepinephrine, and helps effectively treat depression.
Effexor XR medically treats:
Depression
Generalized anxiety disorder
Social anxiety disorder
Panic disorder
Effexor XR Savings Card Benefits
If you qualify for the Effexor XR savings card, you'll pay $4 for your monthly supply of Effexor XR. Qualifying applicants will save over $1,800 on their annual Effexor XR prescription.
You can apply if your health insurance is provided by a private company or an employer. Or, if you are uninsured.
You are not eligible if you have Medicare, Medicaid, or similar health insurance sponsored by federal or state agencies.
Register for your Effexor XR savings card here. You will be asked to supply information like your name, email address, and zip code.
Once you are approved for your card and receive it, you will have to activate it online here. You must enter your Effexor XR savings card ID number at the prompt.
Keep in mind that you are limited to how much money you can save with each use of the card.
You can only use a value of $150 per use of the card, or your copay amount, whichever is the lesser amount.
Depression and its associated disorders are serious medical problems. Make sure that you consult with your doctor before taking Effexor XR.
If Effexor XR is right for you, make the most of the prescription savings potential with the Effexor XR savings card.
Read More
How to Save Money on Prescription Medication
The High Cost of Some Prescription Drugs Can Be More Than Most Automobiles
I SAVED 30% BUYING GENERIC BLOOD PRESSURE MEDICATION OVER THE BRAND NAME
AVAILABLE COUPONS Results for: Category:

all

Query:

all
There are no results found, please try another search.