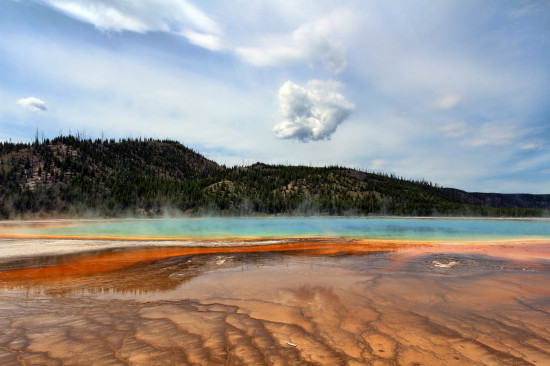 Apparently, there is more to the Yellowstone National Park than meets the eye. As described in
Science Magazine
, scientists had already known about a volcanic plume that exists under the Park, which "brings molten rock up from deep in the mantle to a region about 60 kilometers below the surface." As well, they had previously discovered a shallow magma chamber with 10,000 cubic kilometers of molten material located approximately 10 kilometers below the surface. But now research scientists have discovered an even deeper, larger chamber below the surface using a sophisticated imaging technique in which the scientists visualized the lower crustal structure and then combined that information with observations from distant and local earthquakes. Together, their data pointed to the
presence of another magma chamber
approximately 46,700 cubic kilometers in size.
Though the discovery itself does not increase the chances that this "super volcano" will erupt, it has served as a "missing link between the mantle plume and the shallow magma chamber" according to geophysicist Peter Cervelli at the U.S. Geological Survey's Yellowstone Volcano Observatory. Still, the discovery of the deeper chamber has informed scientists that the shallow chamber (which causes eruptions when emptied) can be continually replenished by this much larger structure. As co-author Victor Tsai at the California Institute of Technology told Science, "Knowing that you have this additional reservoir tells you you could have a much bigger volume erupt over a relatively short scale."
Additionally, the study seems to confirm a "long-suspected model for some volcanoes," where a deep chamber usually made of dense iron- and magnesium-rich rock feeds a shallower chamber, as described by Science Magazine. For those nervous about traversing Yellowstone Park, this super volcano's last eruption occurred 640,000 years ago, though lava has been detected at the volcano's surface approximately 70,000 years ago. Interestingly, researchers have found that previous eruptions because of magma in the upper chamber also resulted in cataclysmic eruptions 2 million and 1.2 million years ago. But never fear: one of the study's co-authors found the chance that the Yellowstone volcano will erupt is one in 700,000 every year, making the odds of a cataclysmic end possible, but not probable.
Beyond the sophistication of the author's analyses, this research will also enable geoscientists to better understand and model super volcanoes to determine both how these structures work as well as the hazards they might present. As co-author Fan-Chi Lin told Live Science, "Our study opens up many new directions and future opportunities in volcano research."
(Photo courtesy of Kyla Duhamel)