I rarely get the consumer bug. Anyone that knows me well also know that if you want to take me shopping, chances are you're going to have to drag me screaming and yelling the entire way. I rarely "lust" after any gadgets. Even my computer which I spend most days on is nothing more than a basic model picked up at Costco that gets the job done. Most of the things that I have which aren't necessities tend to be gifts given to me by others because they think that I need it. In other words, I just don't by a whole lot of stuff.
I've never owned a cell phone. I've never owned a digital music player. It's been over 10 years since I have even worn a watch. So, you can imagine my surprise when I found myself saying "I want that!" upon seeing a $200 watch that caught my eye. This is especially surprising because normally if I decided I needed a watch, I would go the total utilitarian route. I would buy something that was inexpensive but dependable which would cost far less than $200. This is the watch that I want.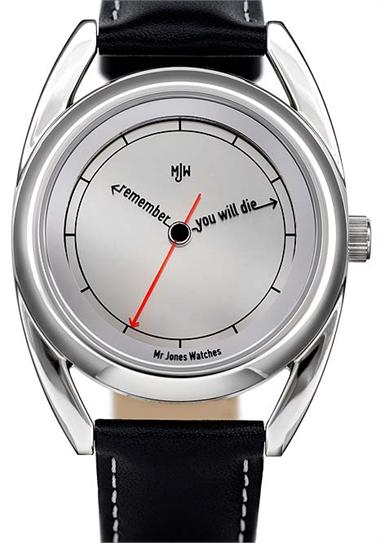 My sister told me that I was morbid for wanting a watch that says that, but it's exactly for the opposite reason that the watch appeals to me. I actually think that the watch would make me more productive — something right there on my wrist reminding me that life is short and to make sure to utilize every minute that I have doing the things that are important to me. I can fully understand how this watch wouldn't be something that many people would find appealing, but knowing myself and what motivates me, I think that owning it would help motivate me to do more of the things that I want to do.
All that being said, I haven't purchased the watch. Being on the minimum wage challenge, I recognize that this is a want rather than a need. I've lived the last 10 years just fine without a watch so even though I want it, it really makes little financial sense for me to buy it at this time. At some point I'm sure that I'll get it (it has passed my one week test — most things that I want to purchase that aren't essential I wait a week to see if I still want it. If I don't, I have saved money and if I do, I know that I really want it), but that time isn't now due to the current financial circumstances. Maybe I'll ask for it as a gift or more likely, I will save during this year and purchase it when I feel more confident that it doesn't have the potential to come back and financially haunt me (I think it would be a nice gift to give myself when I win this challenge, especially since my sister doesn't like it). Even though I know I don't buy much stuff compared to a lot of people, and that I could probably buy this now and get away with it, it's still essential for me to recognize the difference between my wants and needs to make sure that I don't get into trouble with my budget.
With the car having the clutch clicking issue and me deciding not to travel until I can get it looked at and fixed, the last two days have been spent at the house working on the computer (not exciting, but hopefully it has helped me get ahead enough in my writing that I can do a bit more traveling when the clutch issue is fixed). I have taken my daily walk to Annadel State Park which is only a mile away from the house and has a lot of nice hiking trails.
I feel pretty good about how the first month has gone. February is looking to be a bit more challenging with no house sitting jobs lined up, but I'm feeling more confident that I can pull this challenge off. While I know there will definitely be some challenges along the way, I have built a bit of a cushion this first month which means I can weather them as long as they aren't too big. I'm looking forward to the challenges ahead.
Today's & Yesterday's Spending
Food: $0.00
Car: $0.00
Housing: $0.00
Travel: $0.00
Health: $0.00
Misc: $0.00
Total: $0.00
Total Spending
Food: $21.76
Car: $0.00
Housing: $0.00
Travel: $0.00
Health: $485.00
Misc: $19.00
Total: $525.76