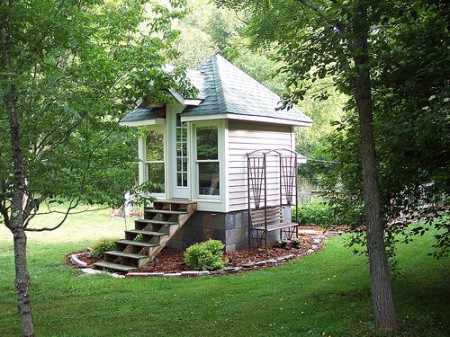 Buying a tiny may be financially wise. A tiny house usually results in tiny house payments – or even no payments at all. But what about the drawbacks?
According to CNN Money, the average house size in America is growing rapidly. During the pre-2008 recession era, houses were being built to about 2400 square feet. Today, the average house size has actually increased by 200 feet! It definitely seems to be a myth that millennials are all about downsizing. It seems like the traditional large American home is here to stay – and grow. Houses in America are growing and they're growing fast.
So what's with all the buzz about tiny houses?
The internet is a buzz about these teeny tiny houses. HGTV and the DIY channel are even beginning to air many shows focusing on the tiny house lifestyle. All the shows claim that this movement is gaining big momentum.
The average tiny house is around 100-400 square feet, according to The Tiny Life. This brings them in at less than 2,000 square feet smaller than the average house. With that space reduction, you can imagine there would be some severe drawbacks. Tiny house lovers say that's not the case. Sure, not everything fits but that's the beauty of it. Decluttering has a hugely positive financial impact, after all.
yes, there are many advocates for tiny house living. With good reason. After all, being mortgage-free is plenty doable with small living. Everyone reading this article enjoys saving money. But I will uncover the drawbacks of tiny house living:
What happens when you get hurt/sick?
Many tiny house lovers are young. Many of them aren't thinking too far into the future. Most tiny houses have one bathroom, extremely close quarters, and a bed which you either get to via a narrow staircase or a steep ladder. What happens when you get sick?
When I get sick, people have to use one of the other bathrooms in the house – because this one is completely occupied. With a tiny house, there's only 1 toilet. It would be awkward to have to interrupt someone during a vomit-a-thon so you can take a leak. Plus, a sick person inside a space the size of a submarine basically guarantees everyone else in the household will get sick as well.
What happens when you want to have friends over?
Too bad, I guess? Keep in mind I've not lived in a small house. But even if a person did try to invite friends over, the (former) friends would probably turn away at the sight of such a small space. Interacting with each other would be very hard, even if everyone could fit inside. Try party walking through a crowded tiny house. It would probably look like a log jam.
No Personal Space
When I get sick, I want to contain myself. When I'm in a bad mood or stressed, I don't want to be around friends or family. What are people to do in a tiny house? A lot of tiny houses are placed in rural areas so they can save money on land. It's not like in New York City where you can just run into a coffee shop to use their bathroom or catch a little 'me' time.
New Hobbies, Anyone?
What if you want to try a new hobby or start a new business while living in a small house? Are you just to abandon the notion simply because of square footage? For instance, what if you decide to try yoga, crocheting, start an Etsy shop, etc.? I know some of these things can be done in a tiny house but you can't possibly do them all. Even if you try to do 2 or 3, it can be a royal pain. I've seen and read about tiny houses that offer a lot of 'conversion' options with the interior. The desk turns into a dining table. The closet doors turn into an ironing board, etc. But, to me, converting your space all the time is a HUGE pain-in-the-butt. Don't deny it. Most people are even too lazy to push in their chair before going to the restroom…
Are there really drawbacks to tiny living?
I truly think so. Although you should take what I've said with a grain of salt. I have never lived in a tiny house. However, I've done a lot of camping, I've lived in a small apartment with 6 other people, and I'm a minimalist. I feel my projections are pretty solid.
What do you think? What do you see as drawbacks of tiny living? Do the benefits (like being mortgage-free) outweigh the drawbacks?