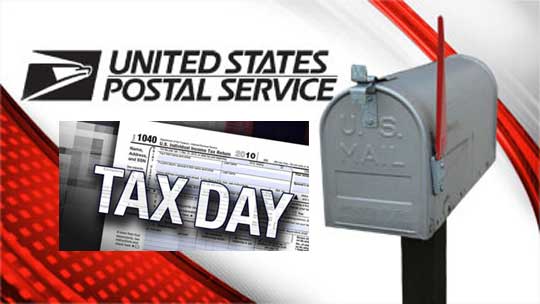 Although less than one in 10 taxpayers file their returns by paper, the U.S. Postal Service is accommodating last-minute filers by
selectively
extending post office hours on tax day, April 17.
This includes expanding the hours of mail collection at some, but not all locations, and in most cases it's just staying open just an hour later rather than keeping doors open until midnight.
Actually, the Internal Revenue Service considers the final deadline to be 11:59 pm on April 17 –that's the latest that paper tax returns can be postmarked.
Dropping Off Mail
Meanwhile, the U.S. Postal Service's after hours operations that day are limited to dropping off mailings — you can't buy postage after regular hours, nor obtain any service that requires communicating with a postal clerk.
If you want to find a post office open later than 6:00 pm on tax day, be prepared for a significant drive. Case in point: in the greater Los Angeles metropolitan area, only three postal locations have extended hours (see which ones by clicking on the link above), one of them until 8:00 pm and two of them until midnight.
Only one of those locations is within city limits, while the others are in Santa Ana and San Bernadino.
After that, the next nearest location that's open until midnight on tax day is in San Diego (the address is at the link above).
More Post Office Hours on Tax Day
Where else is open late on tax day 2018? So far, Orlando has a location that's open until 9:00 pm that day (again, see the link for the address, along with details on locations that are open until 6:00 pm that day.
Plenty of other cities don't have any post office locations open later than 6:00 pm on tax day — like Phoenix, for example (click on the link to see a list of the 18 locations that are open one hour later than normal).
Some municipalities are still announcing what extended hours will be on tax day 2018 — so please check back here for updates as we learn of additional sites' schedules.
And, readers, if you know of any extended hours at a U.S. post office location that isn't included here yet, can you let us know about it in the comments section — so we can continue to update this post as schedules are confirmed?
Read More About Taxes
Stay on top of everything there is to know about taxes — check out these articles from our archives: