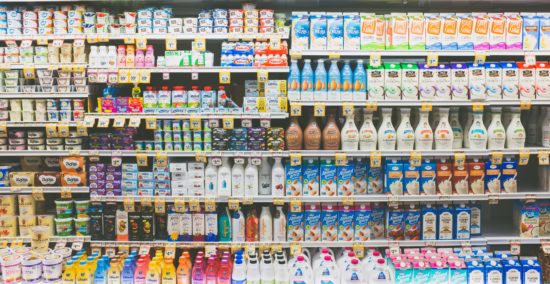 Many people have recently adapted to diets low in dairy. However, if you've been taking this approach to dieting, you may want to rethink your nutrition. A recent study found a link between the consumption of whole-fat dairy and cardio health. More specifically, researchers are suggesting at least three daily servings of dairy may help reduce your risk of heart attack and stroke.
Previous Health Recommendations
Previously both the United States Department of Agriculture and the American Heart Association recommended that adults not exceed three servings of low-fat dairy each day. Both agencies believed the high levels of saturated fat found in dairy may raise bad cholesterol in your body.
The new research may challenge those guidelines because now researchers have evidence that fatty acids found in whole-fat dairy may help protect against heart disease and stroke.
The Latest Dairy Study
The latest study took a look at the dietary habits of 136,384 people across 21 countries and five continents over nine years. What they found was that the consumption of whole-fat dairy has a correlation with an overall lower risk of mortality and cardiovascular disease.
Lead author of the study, Dr. Mahshid Dehghan, and his colleagues collected self-reported data via food questionnaires. Individuals surveyed were between the ages of 35 and 70 and consumed milk, yogurt, and cheese regularly. For the study, a portion of dairy was considered to be a glass of milk, a cup of yogurt, a 15-gram slice of cheese, or a 5-gram teaspoon of butter.
The team of researchers divided the study participants into four groups. The groups consisted of those who consumed no dairy, individuals who only consumed one serving of dairy each day, those who ate two servings of dairy a day, and people who consumed more than two daily servings.
What they found was that people with a higher dairy intake had lower mortality rates overall. They were also found less likely to die of cardiovascular disease or develop major heart disease. Individuals who consumed more dairy were also found to be less likely to have a stroke.
Full Fat vs. Low Fat Dairy
Furthermore, individuals who consumed full-fat dairy only had an even lower risk of mortality and cardiovascular health issues. This suggests that some saturated fats found in full-fat dairy products could be beneficial for cardiovascular health.
Should the Recommended Daily Servings of Dairy Change?
Previous studies with similar findings have suggested the guidelines need to be revised, especially to benefit individuals in lower-income countries.
"Our findings support that consumption of dairy products might be beneficial for mortality and cardiovascular disease, especially in low-income and middle-income countries where dairy consumption is much lower than in North America or Europe," said Dr. Dehghan.
However, that doesn't necessarily mean we need to change the guideline across the board or load up on cheese right now. Jimmy Chun Yu Louie, at the University of Hong Kong, and Anna M. Rangan, at the University of Sydney in Australia, don't think we should be so quick with the eraser.
"The results from the study seem to suggest that dairy intake, especially whole-fat dairy, might be beneficial for preventing deaths and major cardiovascular diseases," they wrote. "However, as the authors themselves concluded, the results only suggest the 'consumption of dairy products should not be discouraged and perhaps even be encouraged in low-income and middle-income countries.'"
Overall, this study simply suggests we not discourage eating or drinking dairy products. By no means, it is a doctor's approval or recommendation that whole-fat dairy is healthier than low-fat products. Keep in mind, this is just a study that provides evidence that may be worthy of consideration.
Readers, how many servings of dairy do you eat a day? 
Read More