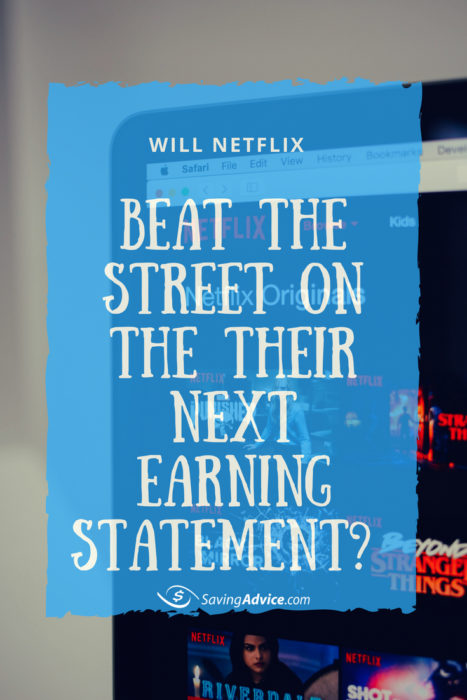 This month, Netflix earnings statement  for Q2 2018 will be  released. Many investors and analysts expect the company to share positive news, especially after their strong performance during the previous two quarters.
Netflix is scheduled to make its next earnings announcement, reflecting Q2 performance, on July 16, 2018. Analysts forecast earnings per share (EPS) of $0.80. But the big question is: will Netflix beat everyone's expectations?
While it's impossible to say for certain, signs are positive that Netflix will exceed expectations. If you're wondering if Netflix will beat the street on their next earnings statement, here are some clues that they might.
Netflix Performance in 2018
Netflix has enjoyed a banner year so far in 2018. Stock prices rose 37 percent during Q1 2018 thanks to a record-breaking 8.3 million new subscribers during Q4 2017.
The company thought their first quarter of 2018 was going to be strong, estimating growth of 6.35 million new subscribers. Instead, Netflix saw 7.41 million net new members sign up for the service, significantly beating their expectations.
Revenue for the company is also heading upward, helping share values increase by 107 percent.
A Reputation for Customer Satisfaction
Long-term Netflix users have shouldered the burden of multiple price hikes, including an increase in October 2017 for everything but the entry-level tier. However, this hasn't notably impacted subscriber interest in the service or deterred new customers, even if small dips in new customer acquisition occurred right after the price bump.
By and large, customers appear to feel that Netflix provides them with enough value for the money. Plus, conceptually, the occasional $1 to $2 per month price bump doesn't seem dramatic.
Customer satisfaction with the service is obviously high. Otherwise, the price hikes would harm Netflix's numbers. Additionally, since Netflix is creating its own movies and television programs, users get access to something that isn't available elsewhere.
As the price increases went into effect, profit margins grew, something that typically leaves a smile on the face of shareholders.
New Potential Service Tiers Could Increase Revenue
Netflix is reportedly testing new service tiers, something that could bolster earnings. Some of the current options would change in the proposed pricing structure. Both the Standard and Premium plans would come with fewer simultaneous streams in the packages, falling to one and two instead of the two and four, respectively. A new tier, labeled Ultra, would allow four simultaneous streams in up to 4K resolution.
At this time, testing is taking place in Europe. While Netflix may not pursue these options, it's important to note that, even though two tiers receive fewer services, the price didn't go down during the tests.
However, decreasing the number of simultaneous streams could create opportunities for additional revenue. First, households that access their accounts on several screens at the same time may need to upgrade. This increases the price of their plan, potentially raising revenue for the company.
Second, fewer simultaneous streams may cut down on account sharing. Account holders might not want to share their login details with friends or family members outside of the household if they might not be able to stream when they want. Then, if those friends or family members decide they want to use Netflix, they would need to create their own account.
Though this test likely doesn't impact Q2, it could bolster the company in Q3. Additionally, the test alone may increase investor interest, something that may drive stock prices up.
Will Netflix Beat the Street on Their Next Earning Statement?
While it is impossible to know for certain whether Netflix will beat expectations, there is a strong chance that they will. The company has been posting excellent numbers throughout 2018, experiencing notable growth.
Additionally, while the Ultra tier is just a test, it could suggest the company is confident in its position. If subscriber numbers were slipping, reducing the services that come with existing tiers and creating a new one might not be a smart move. Since they are considering the pricing and service shift, Netflix likely feels customers would go along with the change.
If one had to make a guess as to whether Netflix will exceed expectations, the smart money would be on "yes." However, predictions for the company's performance were incredibly positive, so even if Netflix only met expectations, that's still great news for shareholders.
Do you think  the Netflix earnings statement will show once again that they will beat the street? Tell us your thoughts in the comments below.
Looking for more great articles? Here are a few to get you started: