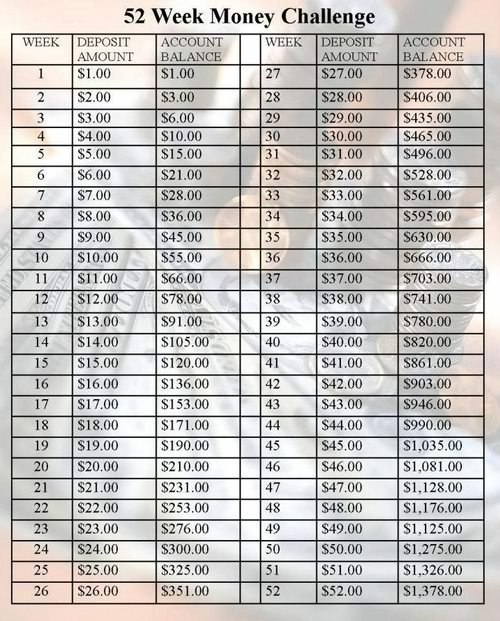 Update: Join (or follow along) with the 2014 edition of the 52 Week Money Challenge or the 2014 edition of the 52 week money making challenge. For those who really have trouble saving, there's the 365 Day Money Challenge that saves $668 a penny at a time
With the New Year, people are always looking for new ways to save money that isn't difficult or complicated, and that can keep them motivated throughout the entire year. It seems like Facebook has provided a simple plan (courtesy of Kassondra Perry-Moreland) this year that anyone can follow and it'll result in over $1300 worth of savings by December 31, 2013.
As the above image shows, it's a simple concept that anyone can do. Because of that simplicity there is a much better chance that anyone has a good chance of completing it. There are actually a number of different ways to approach this challenge depending on what you feel will work best for you. Below are a few ideas so that you can choose a challenge best for your needs.
Standard Challenge
All you need to do is save the dollar amount of whatever week you are in during the year. Week one you add $1, week two, $2 and week fifty-two, $52. Add that all up and you have a cool $1378 dollars saved at the end of the year. If you are staring this a bit behind, You'll need to add the weeks you missed totals to your starting week so that you're on schedule. This should be relatively easy since the dollar amounts are so low the first couple of months.
Reverse Challenge
While the challenge is pretty simple and straightforward, there may be some that want to amend the challenge a bit. Since the end of the year is a time when money is tight for many people due to the holiday season, one way to change the challenge to take this into account is by reversing the payment period. This way, instead of beginning with $1, you'd start with $52 the first week and working your way down to $1 the final week of the year. This hybrid method would mean money payments being more at the beginning, but getting easier as the year goes on.
Do Your Best Challenge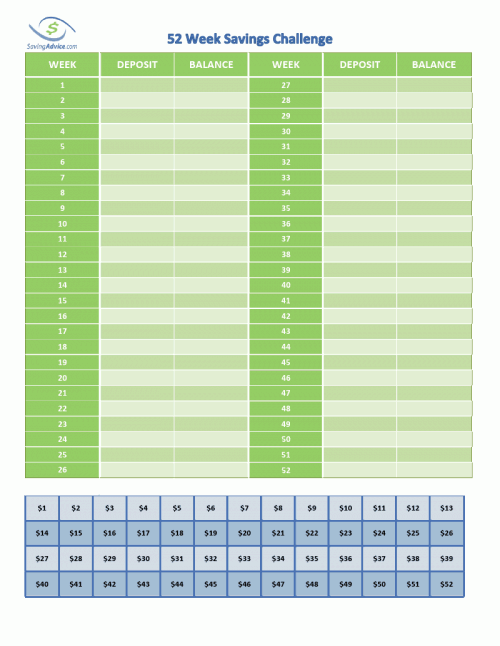 I think that my preferred method would be the "most you can save method" which you can get more detailed information about here and print the sheet here (pdf). In this hybrid model, you print out the above image (or make your own) and you shoot for the highest amount you can each week. For example, if week one you were able to save $46, you would cross out the $46 at the bottom and you no longer have that amount to worry about. Since there are always unexpected circumstances where some weeks you just aren't going to have a lot of money while other weeks it will be much easier to save, this hybrid method gives you the flexibility to cater the challenge to the reality of life. In doing so, it gives you a much better chance of succeeding in the long run. By saving as much as possible, you should be able to knock off the higher amounts quickly, but if the unexpected does happen and there are a few weeks where you can only save a small amount, you have that flexibility that allows you to continue without feeling as if you failed. While not quite as simple as the standard model, I think it would work better for most people considering how life usually works.
Bi-Weekly Challenge
For those who get paid bi-weekly, it can be more convenient for them to do this challenge every two weeks (printable bi-weekly chart available) rather than each week. Switching to bi-weekly only changes the frequency of the deposits. The amount saved at the end of the year is still the same.
Bi-Monthly Challenge
Not to be confused with the bi-weekly challenge, some people get paid two times a month, or 24 times a year. For them, it can be more convenient to do a twice a month challenge (printable bi-monthly chart available). This variation simply allows you to pay toward the challenge when you get paid making it easier to pay yourself first. The total amount the same still remains the same.
Monthly Challenge
For those who only get paid once a month, another option is to do a 12 month challenge (printable monthly chart available). This greatly condenses the number of payments you make from 52 to 12, but if you know that the only way you are able to save money is to pay yourself first, this could be a good option to help with the success of saving money.
Double Challenge
If you are two times more motivated than most, you can try the Double Challenge (printable double chart available). Instead of beginning with a single dollar week one, you begin with $2, week two you put away $4, and in week fifty-two you stash $104. The payoff in the end is that you save double the money for the year, or $2,756.
Build Your Own Challenge
If none of these challenges meets your exact needs, then why not build your own challenge that does? You can take a blank 52 week money challenge (printable) and insert the numbers that work best for your financial situation. This gives you a lot of flexibility and you can shoot for numbers that make the most sense for your particular family.
Kids Challenge
If you're looking for a way to get your kids (or the whole family) involved with these challenges, you can do the save money challenge for kids as well. In this case you're doing the same exact same thing, but you have challenge sheets that use quarters, dimes, nickels or pennies that can be used for the kids so they can save the appropriate amount for what they are earning. This is an excellent way to get kids to participate in the saving process, and if you can get them into the habit of doing this on a weekly basis, they will be in much better financial shape when they are on their own.
While the challenge is meant for saving, it can also be adapted to other things such as paying off debt. Instead of putting the amount each week into savings, simply place that amount toward the minimum payment of your credit card bill. This will help anyone in credit card debt pay off their bills much more quickly. Doing it in combination with a snowball method is a great way to add weekly snowflakes toward debt to speed up the entire debt reduction process.
As you can see, there are a number of ways that you can adapt this simple concept to what your particular needs may be, while still keeping the simplicity of the concept. The best part is that if you're able to succeed, you will have nearly $1400 in savings which makes for an excellent emergency fund, or have paid off an extra $1400 worth of debt (which will save you much more than that in interest payments you would have had to pay if you did it slower).
Balance the 52 Week Save Money Challenge With Passive Savings
The 52 week money savings challenge is an active approach to saving money. If you want a passive approach to saving money, consider using an app like digit.co or acorns.com. Digit.co in particular is a great application for passive savers. Pretty much how digit.co works is you sign up online. Then, the software analyzes your checking account balances, and then deducts a small amount which won't cause you to overdraw your account. The idea is you just passively let it run for a few months, and then check the balance. It is a great passive way to compliment the active approach described in this article. Click here to check out digit.co.
What do you think? Is it a challenge that you would consider doing and if not, why?