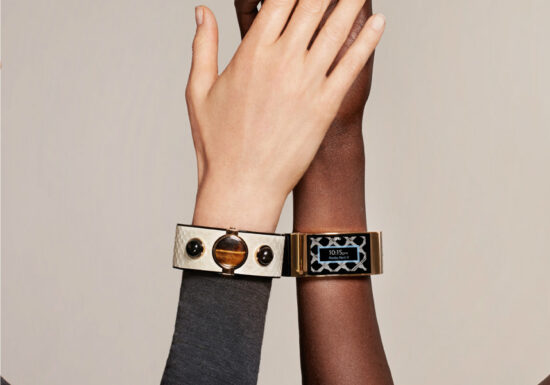 What do you get the tech-lover who has everything? Perhaps the new Intel MICA will fit the bill. MICA stands for My Intelligent Communication Accessory. MICA is a wearable piece of technology that allows its wearer to access the internet, independent of a smart phone, and it's currently planned to be available only in the United States. MICA will be debuting at Barney's in December, just in time for holiday shopping.
Designed as a bracelet suitable for either men or women (although the look definitely lends itself toward the feminine), the $495 fashion accessory can offer Yelp recommendations, Gmail messages, Facebook events and Google calendar notices. The price may seem a bit steep to some, but it also includes a two-year wireless data plan with AT&T. That gives you wireless service for just over $20 a month and MICA for not cost.
A special feature of MICA is the "Time to Go" function that zeroes in on your location and then notifies you of how long it will take you to get to your next appointment. This could be the perfect gift for those who always run late or forget where they need to be next.
The screen part of the bracelet is on the outside of the bangle, and is worn on the inside of the wrist in order to keep messages and notices away from prying eyes. Short, specially worded messages can be selected so when the bangle is worn quick replies can be sent out to incoming messages. These may say something such as "I'm on my way" or "I'll call you when I get home."
The wearer is notified by discreet bracelet vibration when there is an incoming alert. The battery is touted to last two days, with MICA being charged by a micro USB port.
In terms of appearance, it's nothing short of sleek and fashion-forward. MICA comes in two colors: black and white. The white water snake skin bracelet also comes with Russian obsidian and South African tiger's eye. Lapis stones from Madagascar and Chinese pearls adorn the black water snake skin bangle.
The downside of the MICA could be the price, the need to re-up with AT&T after two years, or the limited data functionality, depending upon who you ask. For those who value privacy, the GPS aspect that monitors wearer location could be highly problematic.
Though the company claims men can wear it as well, the bangle size may be too small for men's wrists and for that fact, some women's, as well. In addition, the look may feel too feminine for some men, given the stones set on the front of the bracelet look much like a standard female bracelet design.