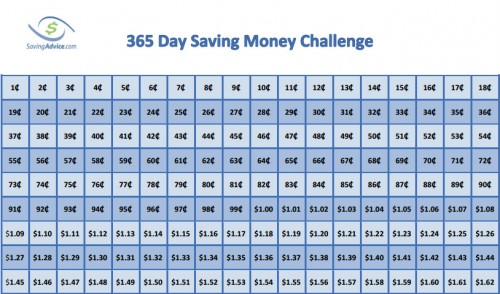 The
52 week money challenge
has gained quite a lot of popularity as a way to save money during the year, but it's not the only way that one can save money. I had a good heart-to-heart talk with a woman who told me that she loved the concept of the 52 week money challenge, but she simply couldn't do it. She explained that each week when she needed to put aside the money for that week, she would panic. The first couple of months were okay because the dollar amounts were low, but as they started to increase, the weekend became a time of terror because she knew she needed to put away money that she didn't have. She ended up giving up because the
challenge
was causing more stress than it was worth. She asked me if I knew of a
different challenge
that might be able to help her.
I didn't know of any, but the more I thought about it, it became clear what she needed. She liked the concept, but dreaded when it was time to put money away, because she didn't have it when the week ended. What she needed was a challenge that forced her to save money before it was gone. She also needed a challenge where the amount of money she was supposed to save was small until saving became a habit. This would help so that she didn't panic. The idea I came up with was the 365 day money challenge.
Get In The Habit of Paying Yourself
The concept of the challenge is simple. There are 365 days in the year. Every day before you go out, you need to pay yourself first. This is vitally important. The panic the woman had was because she didn't have the money to save each week because she waited until the end to pay toward the challenge. What she needed to be doing was paying herself first.
The second important point is that until paying yourself first becomes a habit, it needs to be extremely easy to do. They say it takes three weeks to form a habit, so it's important to make saving as easy as possible for those first 21 days. Longer is even better.
This is how the challenge works. Each morning when you get up, you need to pay yourself some amount before you do anything else. The payment can be anywhere between a single penny to $3.65. Once you have made that payment to yourself, you "x" out the box on your chart. Your next payment the following morning can be any of the remaining amounts on the chart. You continue to do this each and every morning for the entire year. When you are done, you will have saved $667.95. Even better, you will have formed the essential financial habit of paying yourself first which will be an asset the rest of your life.
365 Day Money Challenge (click on image to print)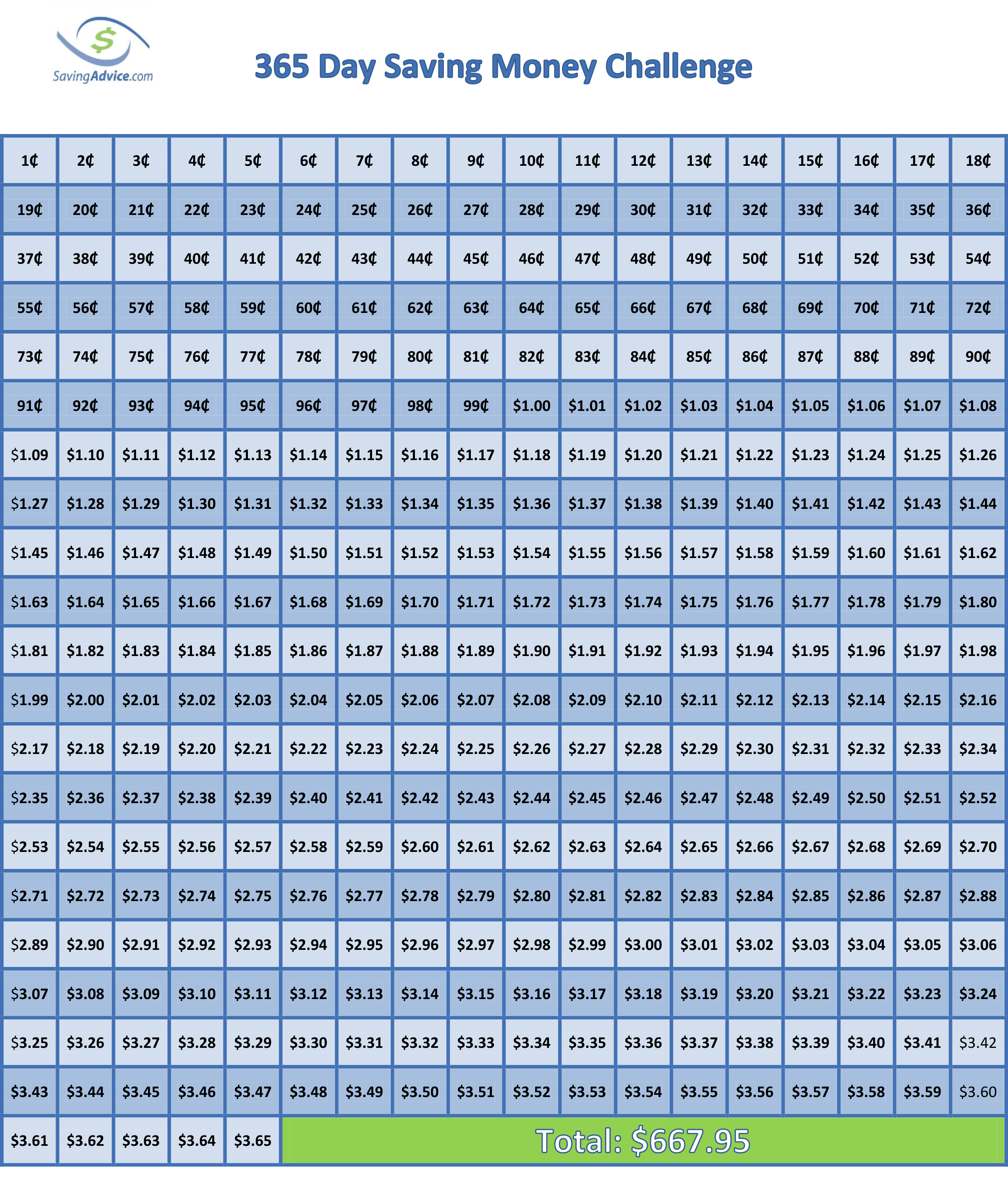 There are a couple of important steps that go along with the challenge. First, after printing out the challenge sheet, you need to place it somewhere where you'll absolutely see it each and every morning, someplace like on the mirror in your bathroom. It needs to be visible so that it's in your face each morning so that it can never be accidentally forgotten.
There are two huge advantages to this challenge over the 52 week money challenge for those who have struggled to get their finances in order. The first is that you're starting with such small amounts that anyone, no matter what their current financial situation, can participate in it. If all you can do is pay the absolute minimum amount each day for the first month, you're only out $4.65 for 30 days. There is nothing that is holding anyone back from trying the challenge except themselves.
The second main advantage is that this challenge is done on a daily basis. It requires you to think about saving every day. Even though the amount that needs to be saved isn't much, the process of thinking about it will cross your mind each morning as you pay yourself. By the end of the year, paying yourself and saving money each day will be a natural part of your day. When you are only thinking about saving once a week, it can turn into a situation where saving money is only thought about at the last minute at the end of the week, and the entire process never gets instilled as a habit.
If you have attempted the 52 week challenge and failed (or you know a friend that has), I think you should seriously consider trying this challenge. $668 is a good start to an emergency fund, but even more importantly than that, you'll have put yourself in the position to save much more money in the following years. If you do attempt this challenge, it's still worthwhile following the 2014 Savings Challenge and 2014 Making Money Challenge as both will give you good ideas on how you can afford to make the higher daily payments.
Zero Effort Money Saving Hacks
Finally, the last few years have seen an explosion in applications designed to help people hack their savings. One great savings hack is to install digit.co. What digit does is analyze your savings account balances and then automatically makes small withdrawals which are swept into a savings account for you. Its super easy to install. Once you have it activated you can make pretty much no effort to save, Digit does all the work for you. Check it out at digit.co.
Finally, if you don't like any of the options above, here are a some other challenge articles that might fit your personality:
Twice a Month (Bi-Monthly)
Monthly
52 Week Alternatives
52 Week Standard
52 Week Variation
52 Week Make Money
52 Week Kids
If you enjoyed this article please share it on social media, rate it 5 stars below or leave us a comment!