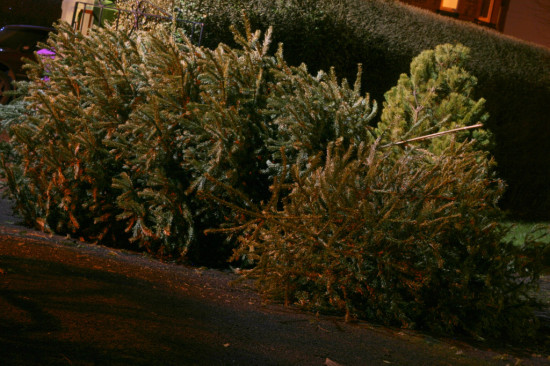 It's that time again. Christmas is over and you might be wondering how to get rid of your Christmas tree. According to the
National Christmas Tree Association
(NCTA), leaving your tree in the trash or "on the curb," is not the best way to use this biodegradable resource, though it is one of many ways to cleanly get rid of a tree.
If you would prefer to just remove your tree without reusing or recycling it, NCTA writes that the best way to avoid creating a destructive (and potentially hazardous) trail of pine needles is to place a tree bag (available at local hardware stores) underneath the tree, hidden under the tree skirt. After the Holidays have past, the bag can be pulled up over the tree, which is then carried to the curb for disposal.
For those who did not plan ahead, a plastic bag can still be used. This time, the bag would be placed over the tree and carefully removed from the home. One should note that before tree removal commences, all ornaments and lights should be removed. In addition, home improvement giant Lowe's reminds tree owners not to wait for their trees to "dry out" before removal, given that drier trees are more likely to cause house fires.
Once the tree is removed, it makes sense to sweep the scattered pine needles with a broom because the needles often clog and damage vacuum cleaners. If you watered your tree during the holiday season, you should also inspect the area underneath the tree for water damage and/or mold.
If you hope to recycle or reuse your tree, there are a number of options. One of the easiest is to simply drop off the tree at your local recycling center. Usually, the center will take your tree at no extra charge, but you should call to confirm before doing so. Alternatively, your tree could become the mulch you use for your garden this spring. Many communities have now begun this practice of turning trees into mulch, and you can contact your local disposal company for more information, and to see if this is an option.
Both Lowe's and NCTA present even more creative options. In a blog post for Lowe's, the author describes how to use pieces of a Christmas tree to create pond feed, a birdhouse or fashion pieces of the tree into next year's ornaments. Trees can also be used as soil erosion barriers as was done in the aftermath of Hurricane Sandy in New Jersey. Some counties also use shredded trees for hiking paths.
In the case that recycling programs are not available in your area, NCTA asks individuals to contact the Association at 636-449-5070 to start and promote a recycling program. Or you can send an email to info@realchristmastrees.org.
To avoid this problem all together, you may want to consider creating an alternative Christmas tree next year, or buying/renting a living Xmas tree.
(Photo courtesy of Pete)