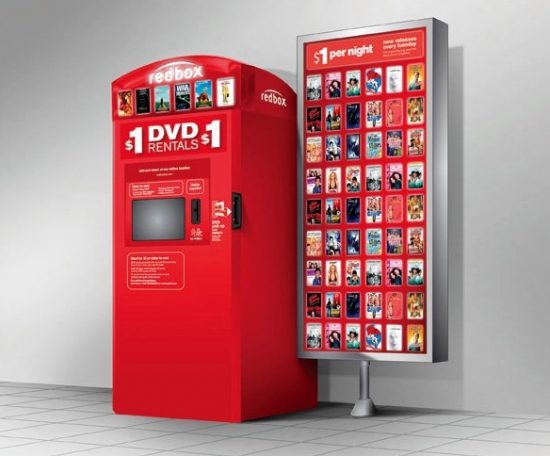 This post gives the many, many ways to get free Redbox rentals. There are so many ways in fact, light movie watchers never could go all year without paying for a rental. Talk about another great way to save on entertainment! Let's get started counting to 18.
1. Signup for Redbox Notifications
After you confirm your email, Redbox gives you a free 1-day DVD rental. This is also handy because they will email you when new movies are released. Also, the notification system may offer you more free rental codes throughout the year. Signup for Redbox emails here.
2. Redbox Play Pass
This is a rewards program. You earn 10 points for every disc you rent. After you earn 100 points, you can claim a free blu-ray or DVD rental (no video games – but see #8 on this list to get a free one of those). Even free rentals count towards your points! You also get a free rental on your birthday and Play Pass anniversary. To join the rewards program, click here. Important: Make sure to fill out the birthday portion of the application form so they know when it's your big day!
3.-6. Text 727272
These are the codes you can text to that number:
MOVIE
MOVIE TIME
MOVIENIGHT
DEAL
You'll get a code worth a free 1-night DVD rental or $1.20 off a blu-ray rental. You can use these codes at the kiosk, redbox.com, or via the mobile app. All codes expire one week after they are sent.
7. Free Rental via the App
This gets you one free movie rental when you do it through the app. Text APPNOW to the same number as before, 727272
8. Free Video Game Rental
Text GAMEKIDS to 727272 for a free 1-day video game rental (sorry for the ageism, adult gamers).
9. Look at Redbox Locations for Specific Codes
Sometimes Redbox locations will advertise free codes. It's a way of attracting new customers.
10.-11. Free Redbox at Walgreens
Use either of the follow codes for a free rental at Walgreens:
WALGREENS
DVDATWAG
Note that not all Walgreens locations may accept the code.
12. Free Rentals at H-E-B (a Grocer in Texas)
RDBOXHEB to 727272
13. Free Rental from Sonic Drive-In
Get a free rental from participating Sonic's with the code:
DRIVEIN to 727272
14. Free Rental from Kroger's
DVDKROG to 727272
Note that not all locations may participate.
15. Free Rental from Wegman's (New England Grocer)
DVDATWEG to 727272
16. Free Movie from McDonald's
DVDATMAC
Please note that not all McDonald's locations participate.
17. Free Movie from Stater Bros. (Super Market Chain in Southern California)
STATER
18. Watch This Post for New Codes
This list will be continually updated. New codes will be added here for those who don't want to signup for email alerts on the Redbox website.
And please note that, although this post will be updated regularly, some codes make break at random. There can be errors with a Redbox vending machine, errors with the Redbox network, errors with the Redbox app, or perhaps a store (or simply one of its locations) has cancelled the freebies before I've had a chance to update this post. If you find any errors, feel free to comment below. I see all comments same day.
Enjoy your free rentals! Light movie watchers can definitely go year-'round without ever having to pay. Just don't forget to return them! Late fees will really kill your experience.