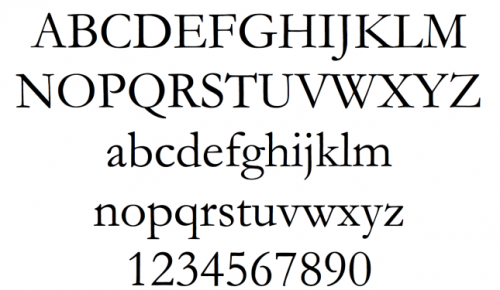 Not all fonts are created equal, and chances are that you're wasting money every time you print a sheet of paper simply by using the default font on the document. In fact, a Pittsburgh teenager named Survir Michandani, doing a science fair experiment, has estimated that all levels of the US government could save hundreds of millions of dollars a year by simply changing the font that they use on documents.
So, what is the best font to save money on printer ink? Switch to Garamond (see image above). Michandani estimated that the US government could save $234 million per year by switching to the Garamond font from the current fonts they use for their documents. This number was extrapolated from him trying to save his own school money on printing costs.
Michandani noticed the large number of printed handouts and lesson plans he was getting in school. He realized if he was getting so many handouts, that amount must be huge when extrapolated out to the class, school, and district. He decided to figure out if there was a way to save money on printing costs for his school district.
He found that the cost of printing materials for students was something that his school district had already addressed. They had implemented a plan to print on both sides of paper and to implement a recycling policy to help reduce costs. One area where they hadn't been able to make much progress was on the cost of ink.
Michandani decided to focus on the words being printed on the sheets of paper. As he analyzed the handouts, he concluded that there were five letters which were the most commonly used: a, e, o, r and t. He took each of the letters and printed them in four different fonts: Comic Sans MS, Century Gothic, Garamond and Times New Roman. He then used a software program called APFill Ink Coverage to determine how much ink was being used by each font to create the common letters on a piece of paper.
He realized that the thinner Garamond font was using less ink to create letters than the other three fonts being tested, and by switching, the school district could save a significant amount of money on printer ink. He calculated that they could save about $24,000 a year by switching fonts, which would reduce their ink costs by 24%.
He didn't stop there. Taking into account the same principles, he decided to apply the cost savings to the entire nation including local, state and the federal government. His conclusion was that as a nation, the US government could save $234 million a year by making a simple font switch. Just the federal government could see savings of as much as $136 million from the $467 million they spend on printer ink each year.
Michandani isn't the only one who has considered how the type of font used can make a difference in the amount of money spent on ink. Printer.com ran a test a few years ago using the same APFill Ink Coverage software to compare different fonts and how much ink they use. Their results indicated that using certain fonts rather than others could reduce ink costs by as much as 31%.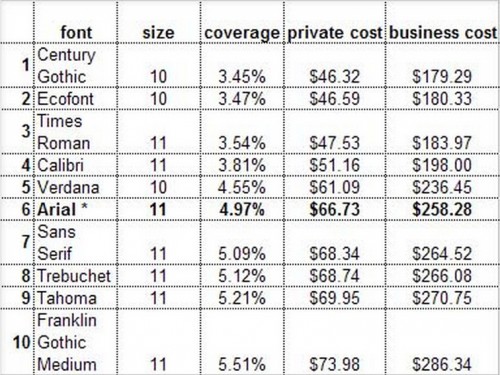 While they did test more fonts than Michandani (they used the 10 most commonly used fonts), they did not include Garamond so that a direct comparison isn't possible. Using Ariel as the base font, they concluded that Century Gothic was the font that used the least amount of ink, beating out even Eco Font which was created specifically to save printer ink. Their test results indicated that an average person who printed 25 pages a week would save about $20 a year if they simply used Century Gothic for all the pages they printed.
What does this mean for you? It means that you're probably wasting ink and money by using fonts that use more ink than others. Instead of printing everything using the default font, changing the font to either Century Gothic or Garamond will save you money by using less ink and having to replace ink cartridges less often. Also consider going with digital signatures or other digital authentication methods. Combine these with other ways you save money using your printer at home and you should be spending less using your printer in the past.