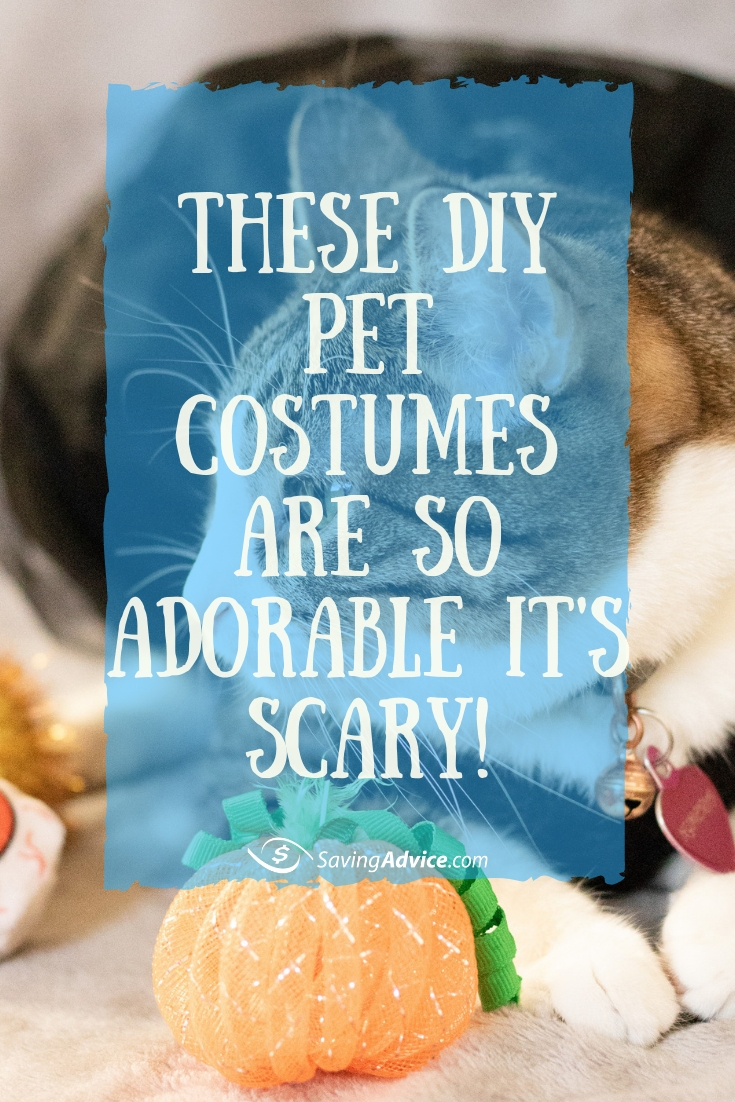 Halloween costumes get more and more creative every year. If you're like most pet owners, you want to find a way to include your furry friend in the festivities. Here are a few creative (and adorable) DIY Halloween pet costumes for you to try!
DIY Skeleton Costume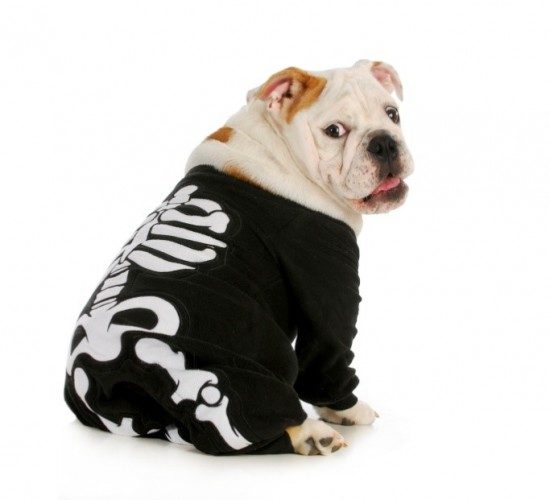 Skeleton costumes are not a new idea by any means. However, you can give your pet a DIY spin on the costume too! You can either paint the bones directly on your pet (with pet-friendly paint, of course) or paint the bones on a black t-shirt your pet's size. If your pet is any color other than black, the t-shirt may work a bit better.
Photo: iStock
"Play Dead"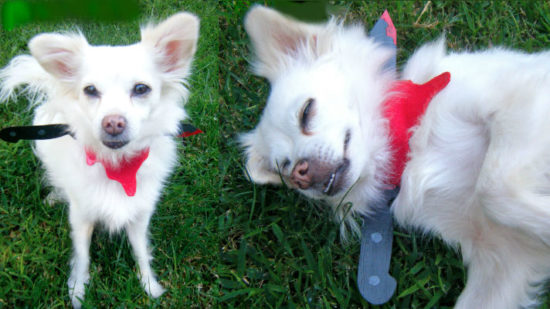 Your pooch can play dead with the faux knife costume. This DIY costume does require a small amount of craft skill. However, if you can manage that, it is super adorable. Here are the steps.
Cut a triangle shape from red felt or fleece. (Be sure to measure your dog or cat's neck and make the material 6″-10″ longer than needed.
Draw a curved neckline and "dripping blood" on the material with a pencil.
Cut along the lines you drew. Then, use 3D paint to enhance the appearance of blood.
Using a lightweight cardboard (cereal box cardboard is perfect), draw the shape of the top and bottom part of a knife.
Cut the knife shape from the box.
Glue the knife handle and "blade" to opposite ends of the cloth material.
Tie around your pet's neck like you would a bandana.
Photo: Erika Lindquist/Sew DoggyStyle
DIY Doggy Ghost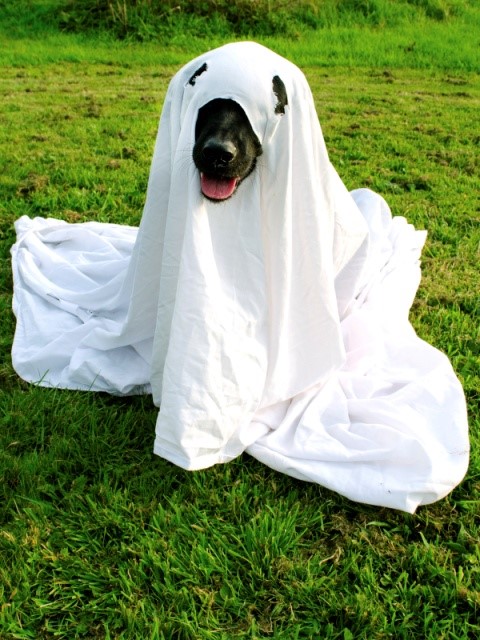 The ghost costume has been one of the easiest (and cheapest) costumes for humans for decades. You can use this DIY Halloween hack for your pet too. Cut holes for their eyes and mouth in a white sheet. Also, be sure to trim the sheet so they aren't tripping over it and, voila! Your cat or dog is now an adorable ghost at little-to-no cost to you.
Photo: iStock
Harry Pawter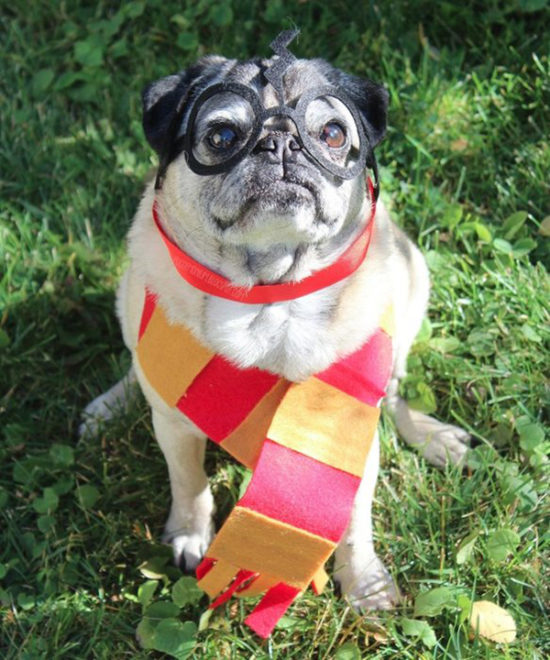 Turn your pet into the world's favorite wizard, Harry "Pawter." To pull off this look you'll need red felt, gold felt, black stiffened felt, scissors, pencil, paper, glue gun, and ribbon. The video below will walk you through how to use these materials to turn your pooch into this beloved character.
Photo: sarahndipity/Instructables
All Business Costume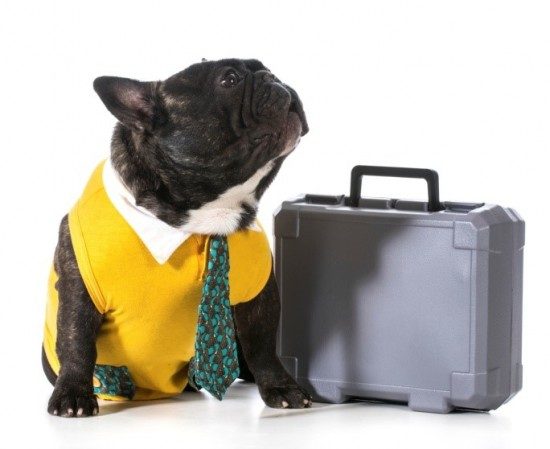 Maybe your pet is all-business. If so, this business-casual DIY Halloween pet costume is perfect. Here's what you'll need to do.
Grab an old button-up shirt and cut the wrist cuffs and neck.
Sew them to fit the size of your pet's wrist and neck.
Pick out a t-shirt sized for your pet.
Cut a tie from a pet-friendly fabric.
Place the neck collar and wrist cuffs from the button-up on your pet's neck and wrist. Then put on the t-shirt and neck tie.
Photo: iStock
Bat Dog
For this adorable look, you'll need a harness, craft foam, glue gun, scissors, a pen, ruler, and glue that dries clear. The video below will walk you through the steps to turn these items into the cutest Bat Dog costume!
DIY Dog Spider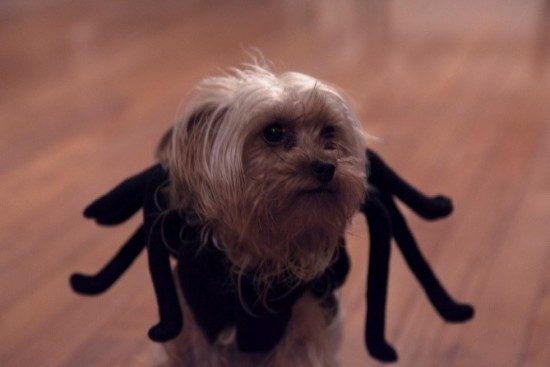 This costume is more of a repurposed costume than something that is totally DIY. Take a store-bought spider decoration and remove the padding. Then, cut holes for your pet to fit inside. If your pet is too big to fit in, attach straps to connect it to the body of your pet.
Photo: iStock
DIY Beanie Baby Costume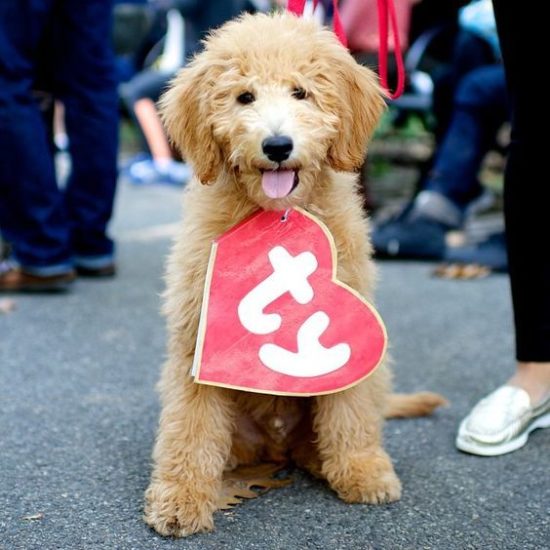 This costume is super easy to make and is doable for both cats and dogs. Here's what you'll need:
Paper
Scissors
Mod Podge
Hole punch
Red ribbon
Take those materials and follow the instructions below to recreate this look.
Trace out the shape of the Ty beanie baby tag and cut the heart shape out.
Punch a hole in the paper where the ribbon will be pulled through.
Draw the Ty design on the front.
Tie the "tag" around your animal's neck like you would a collar or bandana.
Photo via Pinterest
Three-Headed Pet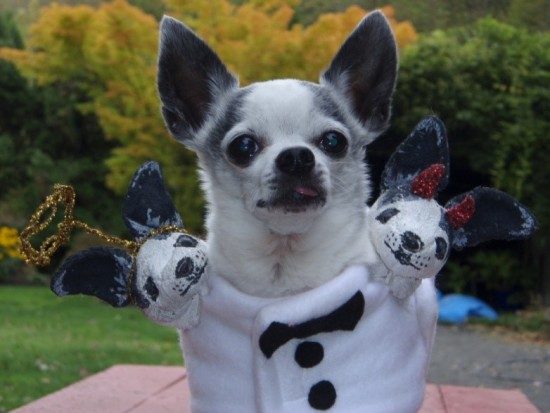 This DIY costume is a bit scarier than the others on this list but is a show-stopper. Best of all, it is super easy to make. Here's what you'll need to do.
Find two stuffed animals around the house or out shopping.
Remove the heads of the stuffed animals and sew them to a strip of fabric. (Be sure to leave room between the two heads for your pet's head.)
Then, tie or Velcro the fabric around your pet's head.
Photo: Flickr
Martini Dog Costume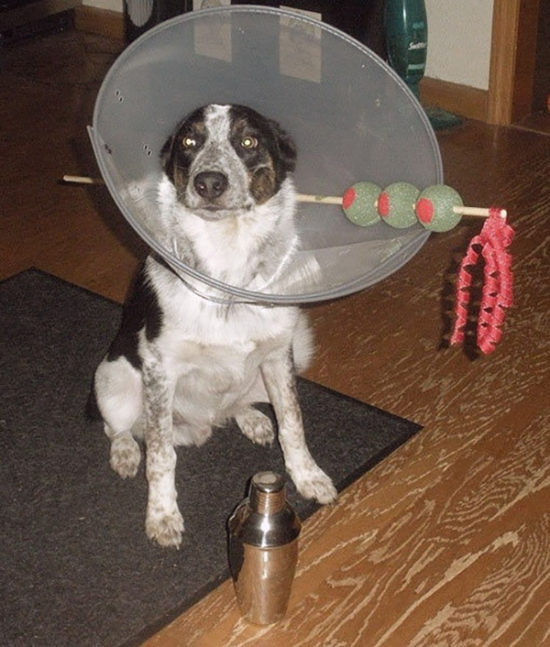 You'll need a few craft items and the "cone of shame" to pull this look off but it is totally worth it. Here are the materials you'll need.
E-collar
Red ribbon
Thin stick or cardboard
Red felt
Hot glue
Styrofoam balls
Shaker (optional)
Take the stick (can be found in the craft section of the store) and put it through the green styrofoam balls. Hot glue the red felt to the styrofoam balls to look like an olive. Garnish the stick with red ribbon. Then, stick the stick through one of the holes in the e-collar. Pose your pup in front of a shaker for the extra Instagram likes.
Photo: Homes Alive Pets
Each of these DIY Halloween pet costumes is easy to pull off and extremely affordable. So, if you're looking for a way to include your pooch or cat in the fun, consider trying out one of the costumes above.
Do you have any fun DIY pet costumes you'd add to the list? Send us a message!
Read More