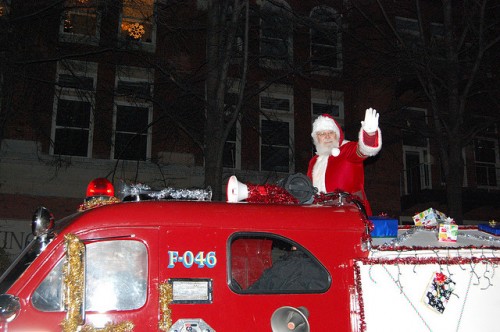 By Dana Free
Ah, the season of giving. Magic in the air, Christmas carolers echoing throughout packed shopping malls, Salvation Army collection bells ringing — it's the most wonderful time of the year to do good for others…right?
With your family's jam-packed social schedule, endless check-out lines and troops of hungry house guests on the way, it may not always feel that way. In fact, charity can fall on the back burner when December's endless festivities take over our to-do lists and wallets.
No need to be a Scrooge when you're trying to maintain your holiday cool. Thanks to the efforts of charitable organizations and programs across America who know how stressful the holidays can be, it's easier than ever to embody the giving spirit of the season without breaking the bank or your back.
Consider these 10 out-of-the-box ways to effortlessly incorporate charity into your daily routine this holiday season:
Jump aboard the daily deal train
Websites, like Groupon and LivingSocial, have made daily deals a new phenomenon in consumer savings. But, why not add a charitable twist to make the whole transaction more meaningful? Sharing Spree is a new daily deal site that donates between 10-15 percent of every deal sold to non-profits or schools. Sharing Spree works with a number of well-known causes such as the American Cancer Society and Meals on Wheels. It also works with small, local charities that are always in need of a boost in donations.
Give for the future
Looking for a way to give back in the office or promote team solidarity? Turn charity into a team project. Whatever your company is passionate about — technology, innovation, cooking or arts — create a custom scholarship program and award students in need who best fit the criteria. Investing in even one student's education is a gift that will keep on giving for years to come.
Be a kid in a toy store
There is no better time than the holidays to reignite your inner child. Grab family, friends or co-workers and head to the local toy shop for a shopping spree that gives back. Check out Toys for Tots, a program that donates toys to children in need, to ensure that every last girl and boy has plenty of goodies under the tree on Christmas morning. There's likely a collection in your hometown.
Help a friend dress for success
In the state of today's economy, chances are you have an acquaintance that's unemployed and back on the terrifying job-hunting grind. As any head honcho can attest, the first step to nailing that dream gig is looking professional at the interview — but not everyone can afford appropriate attire. Consider donating to Dress for Success, a program that donates gently used professional clothing to needy job-hunters across America. Your closest could probably use a good cleaning anyway.
Light up the season by going local
Whether hitting the grocery store before the influx of holiday house guests or braving the mall on Black Friday, there are plenty of ways to shop with purpose. Why not patronize stores and retail websites that sell handmade gifts or support small businesses? Buy local and buy American — the economy and the environment will thank you.
Make mom proud
As any mommy-to-be or young mother knows, expenses can get pretty steep when it comes to the new little bundle of joy. Why not help cut nursery costs this holiday season? The Help a Mother Organization is accepting donations of diapers and baby wipes that go to single moms in need and gives instructions on how to host your very own diaper drive and make a party of it.
Give the gift of life
Did you know the Red Cross needs about 1,000 units of blood each day to keep up with demand? Donate this holiday season to give the gift of life — in less than an hour. Read up on this great cause and locate a blood drive in your area by visiting Red Cross Blood.
Bring wish lists to life
The holidays are all about family, right? Look no further than the Salvation Army's Adopt a Family program to make a big difference for families in need during the holiday season. Simply sign up online, select a local family of preferred family size and receive personalized wish lists from each member of the family soon thereafter. Learn more here and explore options in your hometown.
Benefit breast cancer research – and look good doing it
Shop Pink and fight breast cancer. With retailers from Sephora to Ann Taylor to Cuisine Art donating proceeds of sales to research, there's a gift for everyone on your list that benefits the cause The Breast Cancer Research Foundation is able to direct $0.90 out of every $1.00 donated to toward breast cancer research and awareness programs — imagine the good you can do with a little retail therapy.
Spread the love overseas
Attention, proud patriots: it's easier than ever to give back to our men and women in the armed forces this holiday season with Operation Gratitude. A quick online donation of any amount contributes to care packages sent to men and women overseas defending our freedom during the Christmas season.
There's no better way to get in the holiday spirit than to help those in need. So, why not keep the holidays stress-free and give back while doing it? Happy holidays, and start spreading that goodwill today!
Dana Free is director of non-profit relations for Sharing Spree. (Image courtesy of fdtate)