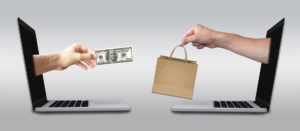 A Supreme Court ruling in June may make your online shopping more expensive. The court decided that South Dakota is allowed to require online retailers of a certain size to collect state sales tax. They could collect regardless of whether the business has a physical presence in the state. This paves the way for other states to act in kind.
Which States Can Have Online Sales Tax?
To put it simply, any state that charges a sales tax on retail store purchase can have online sales tax too. In many cases, states already require companies that have a physical presence in the state to collect sales tax on online purchases. However, the recent Supreme Court decision gives states the ability to extend these charges further.
As of July 1, 2018, Hawaii, Kentucky, and Vermont implemented legislation for the collect on sales tax from remote sellers. During the fall and winter of this year, Alabama, Connecticut, Georgia, Illinois, North Dakota, and Wisconsin are all following suit.
Several other states, including California, Kansas, and New York, have similar legislation in the works.
Will Online Sales Tax Be at State or Local Rates?
If you live in a state with sales tax, where you shop typically affects the tax rate. Often, sales tax rates fluctuate from one city to the next, as municipalities can add additional taxes on top of what the state charges.
The same rules may apply to online sales tax, depending on your state's legislation regarding its collection. If your city has sales tax on top of state tax, your online purchases might use the higher rate.
If you want to estimate your sales tax in advance, check online for information about the rate associated with the delivery address. In many cases, where the item is going will determine which rate applies.
In cases where a person lives in a state with sales tax, but the package destination is going to a location that doesn't charge it, it's possible that you won't have to pay sales tax. For example, if you live in Washington State (which has sales tax), but the package is going to Oregon (which does not have sales tax), you might not have to pay an online sales tax.
Which Purchases Are Most Likely to Be Affected by the New Legislation?
In many cases, midsize retailers with an online presence will be the source of the greatest impact. Most states have thresholds a business must cross before the tax collection requirement kicks in. Small businesses may fall below those lines.
For example, in South Dakota, a business must have at least $100,000 in sales or manage 200 transactions in the state before they have to collect sales tax on online purchases.
Most large corporations, like Amazon and Walmart, already collect online sales tax in every state with the requirement. The amount you pay at stores like those won't change since they already have online sales tax added to your total.
However, it could affect certain transactions through these giant retailers. For instance, Amazon does collect sales tax for direct purchases already. However, Amazon doesn't calculate sales tax for third-party sellers in the larger Amazon marketplace. Depending on the third-party merchant's sales volume, online sales tax may or not be part of your purchase, in accordance with your state's legislation.
Are There Any Benefits to Online Sales Tax?
While it may not feel like online sales tax is a positive thing when you make a purchase, there are actually some benefits. First, states use sales taxes in a variety of ways. The money supports government operations, public education, and public welfare programs, for example.
Since states and cities will collect more in sales tax, funding certain projects may be easier. Precisely how they use the money varies from one location to the next, but you may actually experience some benefit personally.
Second, most shoppers who live in states with sales tax aren't legally supposed to be making these purchases tax free. Instead, taxable purchases are subject to a "use tax," an amount that buyers send to the state to compensate for the lack of sales tax.
However, most people either aren't aware of use tax or merely choose not to pay it. Technically, in either case, that makes a person liable for penalties should their state enforce the rule and identify purchases that weren't properly taxed.
While the rate at which states penalize people for failing to pay use tax is likely low, it is still a risk. There is often less risk in online sales tax collection, as it guarantees the purchase abides by the law.
Can You Avoid Online Sales Tax?
Technically, you can sidestep online sales tax by only shopping at retailers that don't have to collect it. Usually, this will be smaller businesses or third-party sellers on large platforms who remain below the threshold.
However, that doesn't mean you are legally in the clear. Many states with a sales tax also have use tax for out-of-state purchases, including online. If you don't pay sales tax when shopping, you should pay the use tax instead. Otherwise, you can be subject to a range of penalties.
No State Sales Tax – No Online Sales Tax
It's important to note that individuals who live in states without sales tax, won't pay online sales tax either. Sales tax collection for online purchases align with state and local standards, so the new legislation doesn't mean you'll get stuck automatically paying taxes when you usually don't.
While many shoppers will feel the pinch of new online sales taxes, that doesn't mean you shouldn't shop online. If you can find an item at a lower price, you're still getting a deal, as long as shipping costs don't offset the difference. Plus, it eliminates the need to worry about use tax, ensuring you aren't accidentally on the wrong side of the law or stuck taking extra steps to pay what you owe.
Will online sales tax hinder your online shopping plans? Tell us your thoughts in the comments below.
Read More:
If you enjoy reading our blog posts and would like to try your hand at blogging, we have good news for you; you can do exactly that on Saving Advice. Just click here to get started.