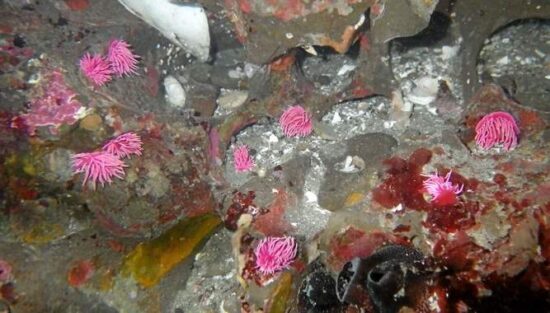 When people visit tidepools in northern California, they aren't used to seeing a lot of pink. That's usually reserved for people down south, but something strange has been taking place over the last few weeks. The Hopkins' rose nudibranch sea slug, whose range typically is south of San Luis Obispo, has been showing up as far north as Santa Cruz, San Francisco, and Bodega Bay.
Scientists have noted the pink slugs' appearance so far noth isn't normal, and are hypothesizing it could have to do with warming ocean temperatures over the past year. The pink creatures aren't the only ones which have been found outside their normal habitat, as there have recently been a number of ocean going creatures who have turned up in northern California where they aren't normally found. This includes sea turtles, usually found along the coast of Mexico or in the Galapagos Islands, being caught by a fisherman in San Francisco. There have also been Humpback whales and dolphins spotted in Monterey Bay, an area where they are rarely seen.
One hypothesis on why these sea creatures are finding their way north is due to a lack of wind in the area over the last few months. The San Jose Mercury News reported a National Weather Service reporter believes the lack of wind may be making the water warmer than usual. Logan Johnson suggested the lack of northwesterly winds, which usually blows warmer water on the surface of the ocean south, hasn't materialized, therefore leaving the northern waters warmer than usual. This has allowed the sea creatures who wouldn't normally be found in the area due to the cold to migrate north.
The pink slugs' appearance wasn't completely unexpected. While it's been about a decade since they have last been seen in the northern California waters, they have appeared before. In fact, there was a paper published in 2011 which actually predicted the current oceanographic conditions would cause the pink nudibranchs to make their way north as they currently are doing.
While the pink visitors may be beautiful to look at, they also bring an ominous reality for other species with their return to the area. The higher ocean water temperatures, which come with their return, also mean the oceans will be less productive than they are when they are colder. The result will be less plankton and less robust kelp forests, which in turn will affect the number of animals living in the kelp forests and those living off the plankton. This continues all the way up to the sea birds which feed on the fish.
(Photo courtesy of Jeff Goddard of the UCSB Marine Science Institute)