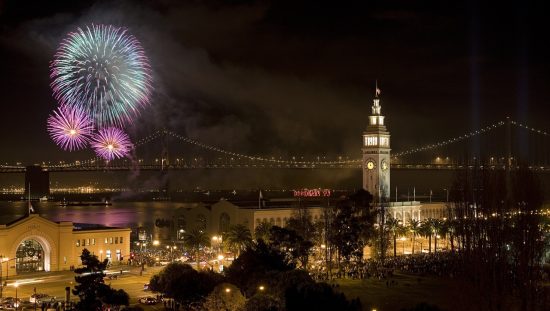 New Year's can be an expensive holiday. Many people buy fireworks, drinks, food, dinner and even give gifts to those who come to their house for the celebration. Sometimes, the holidays take a toll on your wallet. However, New Year's celebrations and everything surrounding it doesn't have to be expensive. You can enjoy the holiday without shelling our a lot of cash.
What can you enjoy this New Year without spending a lot of money? Well, the easiest way to save money is not to spend it, so here are our some of the freebies you can take advantage as we close the year of 2015.
Free yoga classes (they are everywhere!). You can bring in the new year with a nice yoga class.
Home Depot's free kid's workshop
Revelers in San Francisco and Sacramento will be offered a potentially life-saving treat this New Year's Eve, December 31, 2015 – a free cab ride home.
Washington landmarks made from plants, a model train exhibit, a display of poinsettias and seasonal music is some of what you'll find at the U.S. Botanic Garden's holiday exhibit through Jan. 3.
From Dec. 5-Jan. 3, you can enjoy the Winter Display and Garden Railway Exhibit at Brookside Gardens.
Buy a $25 Tropical Smoothie Cafe gift card this holiday season at participating locations, and get a free 24 oz. smoothie.
Buy a $25 gift card at California Tortilla in December and get a coupon good for a free entree in January.
Free Coffee at Sheetz Stores
Free Coffee at Cumberland Farms
Amazon will offer a Bunch Of Appstore Freebies For New Year's Eve: 33 Apps And Games worth $110.
FREE PC Game: Dragonsphere @ GOG.com
Holiday partiers! If you need one, free SoberRides home (up to a $30 fare) are available nightly through Jan. 1.
Buy a $25 gift card, get a free 12 oz. juice or small smoothie at Jamba Juice. Offer good through Dec. 31.
Get a card good for a free bowl when you buy a ShopHouse gift card worth $30 or more. You must buy your gift card in-store by Dec. 31.
Free Uber and Lyft rides for new customers.
Brickside Food & Drink's New Year's Eve party is open with no cover until they reach capacity. There will be a free buffet starting at 9 p.m. and a free champagne toast at midnight.
D.C. teachers can work out free over their winter break at Jade Fitness on Capitol Hill.
Buy $200 in Legal Sea Foods gift cards and get a voucher good for a free lobster dinner
Buy $100 in Maggiano's gift cards and get a $20 Bonus Card, plus a one year subscription to Food & Wine magazine.
A free pub glass is yours when you buy a $25 gift card at Old Ox Brewery, until Dec. 27.
At Christmas Village in Baltimore, through Dec. 27, weekday admission is free.
If you're in Ocean City for New Year's Eve, head to Northside Park for fireworks at midnight, along with live entertainment and hot chocolate.
These are only a few of the freebies available to the public on New Year's Eve. There are a ton of others that you can also take advantage of. Check with your local stores, restaurants and other facilities to find out if they are offering any freebies to ring in the new year. You can welcome in the new year with some extra cash.