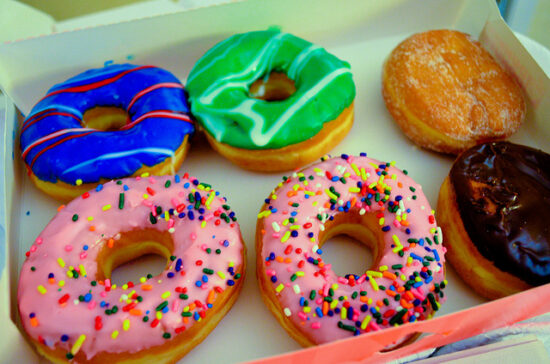 It's the best day of the year for those who love donuts —
National Donut Day
. The day is celebrated on the first Friday in June each year (June 5, 2015). While the day may seem like a corporate marketing tool, the day traces its roots back to World War 1 when the Salvation Army sent women to the front lines to cook for soldiers. These women sometimes made donuts for the soldiers using the metal military helmets, and the infantrymen during WW1 were given the name "doughboys." While the roots came from WW1, National Donut Day didn't become a national day until 1938, when the Salvation Army used it to help raise money.
Today, National Donut Day is best known for a chance to score free donuts. If you happen to be out and about today, you might want to stop in at your local donut shop to see what freebie or deal they are offering to celebrate the day. There are actually two types of freebie deals offered by donut shops on this day: a true freebie and a freebie with purchase. Below you'll find what type each shop offers, and where you can score a free donut today.
Totally Free Donuts Deals
Krispy Kreme Doughnuts: Customers can stop by their local Krispy Kreme donut shop to choose any flavor donut they want for free without any additional purchase required. The free donut offer is good all day.
LaMar's Donuts: A regional donut chain started in Kansas City and now found in six states, Lamar's offers customers a choice of different flavored donuts all day at no cost, and with no additional purchase required.
Fractured Prune Doughnuts: This small chain of donut shops on the East and West coasts is offering customers a free OC Sand donut, which consists of honey glaze with cinnamon sugar, with no additional purchase required. Not all locations may be participating, so you may want to call to confirm before going.
Shipley Do-Nuts: A donut chain mainly in the south with about 300 stores, Shipley donut shops will be offering a free glazed donut without any purchase required to each customer from 5:00 am to 12:00 pm.
Free Donut with Purchase Deals
Tim Hortons: Tim Hortons is offering its customers a free donut with the purchase of a beverage on National Donut Day. For those who want to extend the donut happiness a bit longer, you can also go to their facebook page and get a free donut coupon good for a free chocolate hazelnut donut filled with Nutella (with purchase of a beverage) that lasts until August 30, 2015.
Dunkin' Donuts: Customers can stop by their local Dunkin' Donuts shop to receive a free donut with the purchase of a beverage. The offer is good for the entire day.
Honey Dew: With shops located mainly in the Northeast, Honey Dew has about 140 shops participating in the celebration. The stores are offering customers a free Mocha Madness Donut with the purchase of any medium drink all day long.
Cumberland Farms: While the offer isn't available at all locations (it appears about 50% are participating), customers who stop by a participating Cumberland Farms shop between 5:00 am and 10:00 am can get a free donut with the purchase of coffee or fountain beverage.
Local Independent Doughnut Shops
In addition to the chain donut shops, there are hundreds of independently owned local donut shops across the country, and many of these will also be participating in National Donut Day. The offers will vary from store to store, and some may not participate at all so you should call ahead, but it's worth checking to see if they do have a freebie deal going to celebrate.
(Photo courtesy of Amiga-Commodore)