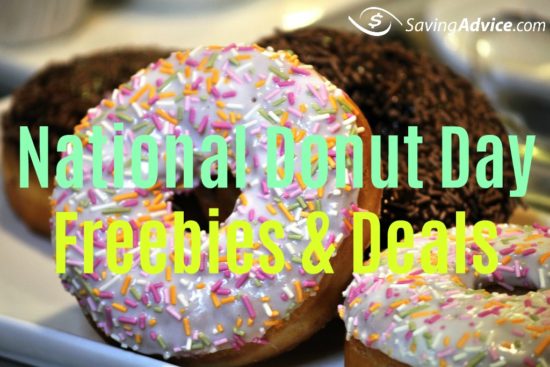 "It's the most wonderful time of the year." No, not Christmas. It's National Donut Day! Tomorrow, June 2, is National Donut Day and thousands of donut shops and restaurants will be participating in Donut Day festivities. Many establishments will even be giving away National Donut Day freebies and other discounted deals.
About National Donut Day
National Donut Day is yet another "foodie" holiday. It falls on the first Friday of every year and this year it happens to fall on June 2. The holiday has been recognized for almost 70 years. In addition to honoring one of the most popular breakfast foods and desserts, the day is also meant to honor the Salvation Army Lassies.
The Lassies served donuts to soldiers during World War II. Women volunteered to go out to the front lines in Europe and serve soldiers home cooked meals, including delicious donuts. The entire operation was a huge morale boost for those serving overseas.
National Donut Day Freebies
Although there is a heartwarming story behind National Donut Day, it is still a foodie holiday (which means there is likely free food). Here are a few places that will be offering National Donut Day freebies:
Duck Donuts: Get a free donut with any purchase on Friday in honor of National Donut Day. You will also receive a BOGO half dozen coupon with your purchase (valid through the end of August).
Dunkin' Donuts: Of course National Donut Day wouldn't be complete without mentioning Dunkin'. It is one of America's largest donut chains. Buy any drink on June 2 and get a free donut.
Krispy Kreme: Like Dunkin', Krispy Kreme is a pretty popular place to grab a donut. On National Donut Day you can drop in at Krispy Kreme and get a free donut (no purchase required).
Lamar's Donuts: Print a coupon out and bring it to Lamar's Donuts and receive a free donut on Friday, June 2 (no purchase required).
Entemann's: Through July 15 enter to win a year of free donuts from Entemann's.
Another great thing about National Donut Day is that many mom-and-pop shops will also be participating. If you have a favorite donut shop nearby you may want to give them a call and see if they have any National Donut Day freebies. If they don't they may be running awesome deals.
National Donut Day Deals
Donut shops and restaurants aren't the only places offering awesome freebies and deals for National Donut Day though. Some of your favorite grocers will be placing donuts on sale as well.
Food Lion: Through June 6 you can get BOGO donut holes, mini crullers and gems for $1.49.
Harris Teeter: Get a 6 count box of glazed doughnuts will be on sale for $1.97 on June 2 (limit 2).
Lowe's Foods: One dozen donuts $4.99 through June 6.
Meijer: On National Donut Day get a free donut with any bakery purchase.
If you're wondering about a specific donut shop or store's National Donut Day freebies and deals, give them a call or check their website/social media. Many coffee shops and local bakeries will also be participating in the day-long event.
Will you be celebrating National Donut Day? If you are celebrating, use the hashtags #NationalDonutDay and #NationalDonutDay2017 to let everyone know!
Photo: Dave Crosby
If you liked this article you may also enjoy: