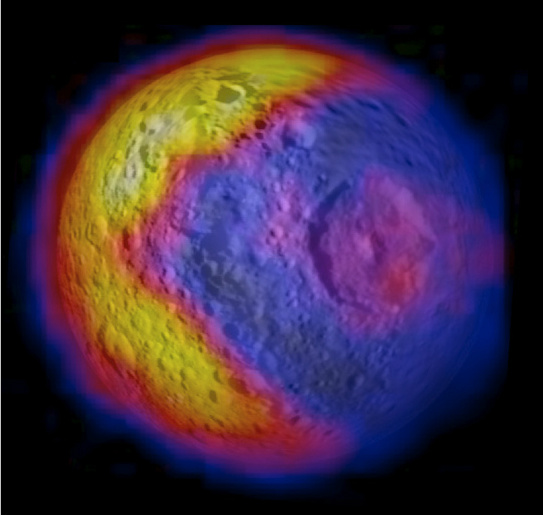 The number of cosmic orbs which have the potential of being "life-friendly" habitats continues to grow. The latest one to be added to this list is Mimas, one of Saturn's moons. Scientists at Cornell University have observed the moon moving in a teetering motion around its parent planet. The "wobble," as the astronomers have named it, may indicate the existence of an underground ocean. If this ends up to be true, the ocean raises the prospect that the extra-planetary orb could, quite possibly, support life.
Mimas orbits Saturn and is colloquially known as the "Death Star" moon, due to its resemblance to the ship of the famed Star Wars series. The moon has been battered by galactic material, and displays a huge crater mark on its surface. Apart from its famous face, the moon is rather normal, even the wobble wasn't thought to be anything extraordinary.
But, new information gathered by NASA's Cassini spacecraft reveals something strange about moon's oscillating movement. The research team used a technique called stereo-photogrammetry, creating a 3D computer model of the moon using hundreds of different reference points.
The back-and-forth totter should displace about 3 kilometers of surface area. Cornell University's Radwan Tajeddine and his team observed 6 km of displacement, leading to two theories. Either the moon has a very abnormally shaped core, or there is a global ocean hidden just 15-20 miles beneath Mimas' frosty surface. The scientists acknowledge that both theories are just that–theories, incomplete, and not without their conflicts.
If the moon had an irregularly shaped core, there should be signs of this on the surface. None have been observed. If the moon houses an ocean, it would require a form of interior heat to keep the ocean's fluid state. Again, no evidence of any such heating has been found.
Yet, a closer look may reveal possibility for both theories. Mimas, along with its sister moons, may have evolved from chunks of rock engaged in a gravitational dance with Saturn, 4 billion years ago. Saturn's pull could have formed the core into an oval shape, which was then covered with ice. Over the last 4 billion years, the push and pull of gravity could have shaped the moon spherically, while still maintaining its bizarre rotation.
It is also possible that the ocean's liquidity could be sustained by the moon's odd orbit alone. The vibrations caused by the movement create friction, which create heat, which will keep its water in a fluid state. As long as the orbit remains eccentric, the moon could sustain the ocean.
(Photo courtesy of NASA Goddard Space Flight Center)