Are you on the hunt for more income in your retirement portfolio? Most of us are, especially with interest rates still hovering near historic lows.
When oil prices fell dramatically over the past eight months we saw a lot of big oil and gas companies' stock prices fall. One of my favorite dividend payers, Exxon, saw its stock price fall by over 30% from 2014. It has since recovered about half of that.
Because of this stock price decline, Exxon's dividend yield has moved up.
A Look At Exxon's Dividends
Exxon's dividend yield is now 3.5%. We haven't seen its yield that high since the late 1990s.
Exxon also knows how to keep increasing their dividends. Even during the brutal recession of 2008-2010 they managed to increase their dividends. Over the last ten years, their annual dividend growth rate has averaged about 10%.
Higher Dividend Yields Mean A More Secure Retirement
I used our WealthTrace Financial Planner in combination with our Retirement Withdrawal Calculator to run some scenarios that shows how Exxon's new dividend yield is such a big deal. I will take an example couple that is 50 years old. They want to retire when they are 65. I also assumed they will spend $60,000 per year in retirement.
My other assumptions for this couple are as follows:
1) Their investments total $350,000 today.
2) Their accounts are split 75% into IRAs and 25% into taxable.
3) Of their investments, 20% is in treasury bonds and 80% is in dividend-growth stocks.
Let's first take a look at what happens if their dividend payers have a yield of 2%.
The chart below shows their situation. Note how they cannot cover their expenses with income in any year.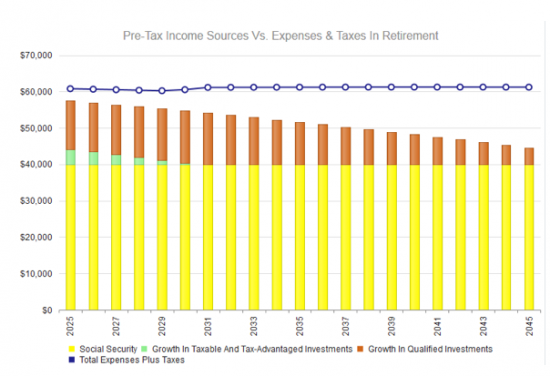 We also project that they will run out of money by the time they are 84 years old.
Now let's take a look at the situation where they get dividend payers like Exxon at a 3.5% dividend yield rather than 2%.
They can now cover all of their expenses with income. This is the benefit of locking in a higher dividend yield when it's there.
This couple can now safely meet their expenses with income from their dividend paying stocks.
What We Learned In This Exercise
A dividend yield this high from a great company like Exxon does not come around very often these days. It's a great opportunity to enhance a retirement portfolio's income stream. We also learned that anybody can run these type of scenarios themselves, without the need for a financial advisor. Here's a guide to finding stocks with a high dividend growth rate.
The tools are available to help you figure out how much income you need in retirement to live stress-free.
Graphs and advice courtesy of Doug Carey