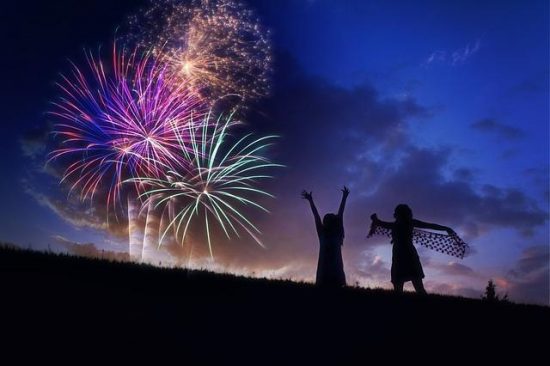 With Independence Day comes a night of fireworks displaying an array of lights for every community in the nation to view. Small ones, large ones, loud ones, and quite ones, they have them all. Some people travel hundreds of miles just to see a certain city's shows and it's often worth the trip.

Here is a summary of some of the best firework show displays around the country.
New York
New York has set the bar when it comes to their fireworks display. Monday will mark the 40th edition of the Macy's Fourth of July Fireworks. Millions watch the festivities on NBC or live in person every year. With live performances from various artists highlighting the day, the reported 54,000 firework shells hitting the Big Apple will literally be the cherry on top a fantastic weekend.
Nashville
A June USA Today report indicated this Tennessee town will attempt to beat out New York for the largest US firework show this year. Butch Spyridon, CEO of the Nashville Convention and Visitors Corp, said the city cannot afford to try and out shine New York every year, but wanted to celebrate the cities five-year anniversary and near full recovery of the terrible flood that hit the town in 2010.
Los Angeles
It's only right that L.A. is one of the most popular places to be during the holiday weekend. One of the city's biggest events will be the Eight Block Party held at the Grand Park in the LA Civic Center. The festivity will be free to the public beginning a 4 PM with music and ending the night with a light show starting at 9 PM. The party stretches from Temple to 2nd Street between Main and Grand. Only $10 will be needed to cover parking under the park or at the Music Center.
Chicago
In Chicago on July 4th, you will want to be at Navy Pier to catch a sky full of lights. The fireworks show can also be seen from Millennium Park. Sure Navy Pier is the home of fireworks twice a week all the way until Labor Day, but their Independence Day show is supposed to be top notch so don't miss it!
Miami
Miami is full of Independence Day weekend events, one of the biggest and brightest happenings will take place in Peacock Park on Monday. This will be another free event that will feature multiple fun activities to complete. Things will get started around lunch time with the Barnacle's Old-Fashioned Picnic going on from 11 AM. to 4 PM and will be followed with the 7th Annual CocoWalk's hot dog eating competition beginning at 5 PM. The fireworks spectacular begins at 9 PM.
Seattle
For everyone on the West Coast, the Seafair Summer 4th will be the place to be to celebrate the birth of our nation. The location has two options to enjoy Independence Day including Gas Works Park or South Lake Union Park. Both parks are free to every age. Gas Works Park will include many kid friendly events to help keep your little ones entertained. Western Display Fireworks, a fourth generation family owned business, will be in charge of the fireworks display for the evening. With 40 years of business behind them Western, Display Fireworks will make sure Seattle is rocking this July 4th.
Things to Avoid Bringing
Most of these places have a list of Prohibited Items. Here is a small list of things that you should refrain from bringing when enjoying a night of fireworks at certain locations.
Weapons and Firearms
Personal Barbecues
Illegal drugs
Pets, other than service animals
Alcohol
Glass bottles
Marijuana
Fireworks, explosives or incendiary materials or devices