It's such an important question that is asked again and again: "
How much money do I need to retire
?" There are over 40,000 searches for this phrase (or some derivation of it) on Google every month. People are desperate to know if they can retire when they want and if they will outlive their money.
How To Answer The Question
There is obviously no simple answer for everybody. The answer for each person begins with "It depends." It depends on when they plan on retiring, how much they will spend in retirement, and their other sources of income. It also depends on their life expectancy. I have written previously on a similar topic that looks at what it takes to retire early (at age 55).
I've also written about ways to get to your retirement number, which starts by maxing out contributions to 401(k) plans if you have that option. Today we want to look at how much money one should have in order to retire comfortably and how to piece the numbers together.
Lots Of Moving Parts
There are a lot of variables that go into the final answer to our question at hand. No human can possibly calculate all of this in their head, which is why it's great to have software to do this for us. I used the WealthTrace Retirement Planner to run our numbers for this case study. I asked the question, if a couple wants to retire at age 62, how much money do they really need?
Our Study
First, let's get our assumptions out of the way. I assumed we are looking at a married couple that is currently 55 years old. Here are my other assumptions:
We now need to ask, what do we really mean when we say "this is how much it will take." Do we mean, they will end their plan with $1 in the bank? Clearly that is a risky proposition. We want them to have a safety buffer, so I will start with the goal of this couple ending their plan (when they have both passed away) with at least $200,000 left over.
Using this as our goal I found that this couple needs $745,000 when they retire. Using the assumptions I outlined above, they will never run out of money and they will have $200,000 at the end of their plan to pass on to their heirs. Below you can see their investment balances over time:
What If Stocks Don't Do Well?
This is a question that all of us should be asking. If stocks do not return 7% per year, what happens to this couple in retirement? We certainly shouldn't bank on 7% average returns. So let's run a few scenarios where rates of return are worse than this. I looked at how much money they would need at retirement given 6% returns, 5% returns, and 4% returns for stocks. Here is what I found: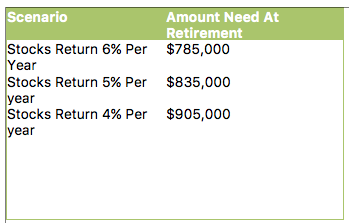 Our rate of return assumptions are very important when we run this type of analysis. That's why I always recommend being somewhat conservative with return assumptions. Don't plug in 9% for your stock returns every year and think your results will pan out. That is dangerous and can lead to bad decisions.
Summarizing Our Findings
Each person and couple are very different. We cannot apply a blanket answer to the question "How much do I need to retire?". But we can make general statements and look at each person's individual situation to come up with a good number. One thing is for certain: It's better to run the numbers than making a guess. Retirement plans are too important to leave to chance.
Photo: Flickr: Tax Credits
Graphs and charts: Doug Carey