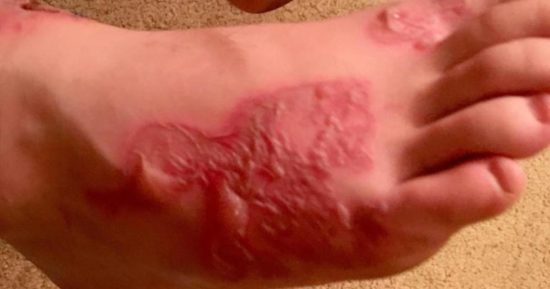 As the summer comes to an end, many people are headed to the beach one last time before the weather cools down again. There is nothing better than slipping off your sandals and getting your toes in the sand, but you may want to think twice before doing so. A number of teenagers contracted hookworms after visiting a beach in South Florida.
According to Healthline, hookworms are a type of parasite that can affect your lungs, skin, and small intestine. People generally contract hookworms after coming in contact with hookworm larvae found in dirt that has been contaminated by feces. In this case, the teenagers' skin came into direct contact with contaminated sand at the beach.
Although hookworm infections impact 576 to 740 million people worldwide, according to the Centers for Disease Control and Prevention, infections rarely occur in the United States. That is why it has been surprising for people to discover numerous hookworm infections spawning out of Florida.
Kelli Mulhollen Dumas said she first discovered the infection on her son, Michael, and assumed they were bites from chiggers, a type of mite that can live in the sand at the beach. Within days, her son's entire body was covered in red, itchy hives and she knew something was seriously wrong. The doctor confirmed that Michael had cutaneous larva migrans, caused by coming into contact with larvae from hookworms.
In addition to a red, itchy rash, hookworms can also cause abdominal pain, intestinal cramps, nausea, fever, blood in your stool, and loss of appetite. It also causes colic in infants. If the infection lasts a significant period of time, you can become anemic.
Dumas told The Washington Post her son was just one of a number of teenagers that had been infected after a trip to Pompano Beach, Florida. Michael and his friends were there mid-June for a mission trip and his friends buried him up to his neck in sand. This made his infection more serious than others on the trip.
Although the photos of the ordeal are alarming, Dumas isn't trying to gross anyone out. She simply hopes to educate others about the potential dangers of hookworms. "I'll never walk on the beach again without shoes," she said.
Hookworm Treatment
Thankfully, Michael and his friends will all recover fully from the infections, although Dumas says she and her son have been emotionally scarred by the experience. Michael was prescribed antibiotics to get rid of both the hookworm infection as well as a staph infection caused by the hookworms.
Outside of that, your physician may instruct you to take special care of your diet while you are mending from hookworms. Focusing on bettering your nutrition while your body fights off the parasite is extremely important. This is especially the case if you've become anemic.
How to Protect Yourself Against Hookworms
Preventing hookworms is tricky because they aren't something you can physically see when you're on the beach or in the grass. Below are a few tips on how to protect yourself against infection during your last-minute beach trip.
Always wear shoes when you are walking outside. Even if you are in your own backyard, it is possible to contract hookworms anywhere feces may be in the soil.
Be sure to drink safe water. In countries where there aren't good sewage systems, hookworms can be contracted by drinking contaminated water.
Food is another source of contamination. Be sure to properly cook and clean all the food you make.
As always, practice good handwashing habits. This can save you from a plethora of illnesses and ailments.
Even though it is easily treatable, contracting hookworms isn't something you want to happen to you. If you're traveling to a beach, be sure to take the necessary precautions and do what you can to stay healthy.
Photo: CBS News
Read More