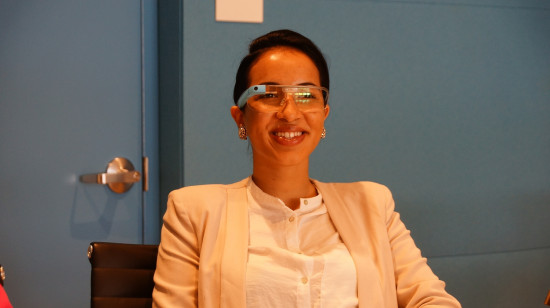 The 2002 Japanese anime
Ghost in the Shell: Stand Alone Complex
introduced a beautiful, futuristic world in which being 'human' was a liability. Set in the mid-twenty-first century in a fictional Japanese city, computer technology in this world had "
advanced to the point where many members of the public possess cyberbrains
" and the level of cyberization varied from "simple minimal interfaces to almost complete replacement of the brain." A person could even become a cyborg, fully equipped with a prosthetic body.
In 2015, we are still very much far from such a world, but when Google Glass was first announced, it was a source of infinite excitement for some because it was a protostep toward human enhancement via 'technological prostheses.' Google Glass is a wearable technology meant to work as a ubiquitous computer. The device can be controlled using "voice actions," most famously the "O.K. Glass" used to activate the device.
A video produced by Goolge showing how users might use Glass to record a video, take a picture, find information 'in media res,' and generally interact and enhance one's world effortlessly has been viewed on YouTube over 26 million times. And the approximately 105,000 upvotes spoke and potentially still speaks to the global excitement about this product, which would surely change our understanding of what people can and cannot do.
But last Thursday, Google admitted to losing belief in its new device when it announced the smart glasses would no longer be sold or developed by Google X, the company's research division. In a blog post, Google Glass announced "we're graduating from Google[x] labs" and that the device would no longer be sold. The company is also stopping its Google Glass Explorer Program leaving a lot of people who paid $1500 for Glass in limbo.
However, the post also tells readers, "we're continuing to build for the future, and you'll start to see future version of Glass when they're ready…Hang tight — it's going to be an exciting ride. Thus, though Google has not yet abandoned Glass, as the New York Times writes, "At least [it's] pressing the reset button." Glass will also begin a new relationship in which Glass will remain a part of Google, but its chief, Ivry Ross will report to Tony Fadell, a designer who worked on Apple's iPod.
As the Times continues, this is a "humbling retreat" for the former darling of Google's annual developer conference, Google I/O. Later in 2012, Time Magazine had also named Glass one of the best innovations of 2012. It was also though the product could turn into a wearable wallet.
Now, the Glass is more a "case study in the perils of developing hardware whose purpose isn't clear." And the fact that some people were afraid of the device did not help. Indeed, the idea of cyberization and a world in which brain-computer interfaces are commonplace, is also frightening for some people and Glass seemed to walk along that line between very cool and 'creepy,' especially given the issues of privacy raised by some individuals. Still, it will be interesting to see how the design and hardware of Google Glass will continue to change in the future.
(Photo courtesy of Ted Eytan)