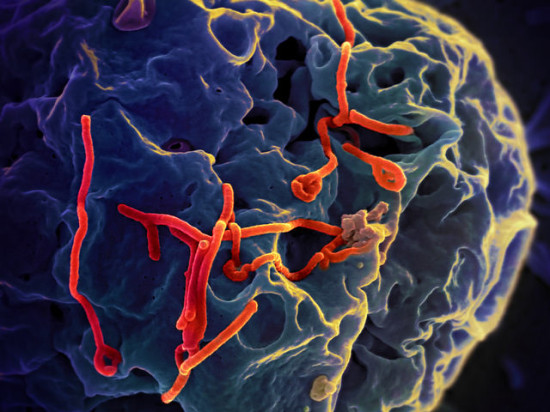 A recently published
study
in the journal
Nature Medicine
reveals that the deadly Ebola virus might just have finally met its match. Researchers at the National Institute of Allergy and Infectious Diseases (NIAID) have created a vaccine which was able to give immunity to the Ebola virus to crab-eating macaque monkeys over 10 months. Much like another experimental drug currently being developed by the very well known pharmaceutical company GlaxoSmithKline, this one boasts longer lasting improvements to the immune system.
The researchers developed the vaccine by incorporating an adenovirus found in the monkeys which is similar to the one in humans. The adenovirus is known to trigger respiratory tract infections. This, spliced with the Ebola gene in the genetic code, is how they made it. The altered virus is then administered to the monkeys, allowing the virus to introduce the Ebola to target cells that would trigger the production of Ebola proteins.
These proteins will then be recognized as foreign bodies by the host, and their immune system would then begin fighting against these structures. The theory behind the vaccine is that since the body has already encountered the "virus," which in this case is a spliced gene, it is prepared to fight the actual virus, should it ever encounter it.
Nancy Sullivan, lead researcher for NIAID, says the new study actually uses two vaccines. The first dose to protect against the mononegavirus immediately and the second provides more long-term protection. The latter uses a different strain, referred to as modified vaccine Ankara (MVA), but utilizes the same gene responsible for coding the Ebola protein.
This outbreak has already claimed an estimated 2,000 victims in West Africa, and it is reported that several experimental treatments are being considered in hopes of containing the outbreak.
Ebola is known to spread via direct exchange of body fluids, including saliva and blood. It is estimated that 90 percent of those infected by Ebola die. Symptoms include vomiting, headaches, bleeding, damage to the central nervous system, and diarrhea.
The World Health Organization (WHO) has announced that human trials have begun, and that the data on safety will be released this coming November. If considered safe for humans, the goal is to immediately provide healthcare workers in West Africa with the vaccine so as they may immediately begin vaccinating the population.
(Photo courtesy of NIAID)