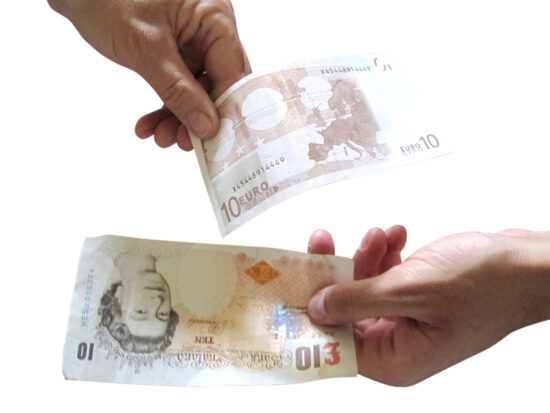 In a globalized world, everybody is affected one way or another by currency exchange. You either work with an international client who pays you in his own currency or in a widely tradable currency such as USD or EUR, or you decide to travel abroad, you need to make money exchange. And you definitely will have to pay some sort of fee for this exchange. But let's see what is the best solution in terms of lowest fees and best rates based on several situations where you have to change your money.
You have several options: exchange cash offline, pay with your credit or debit cards, or exchange money online, should you have an account in the currency you need (e.g. EUR, USD). But first of all you need to make a research and see what the best rates are and how you can capitalize on them. If you need more information on this market, you may even resort to the Library of currency market books where you will find quite a lot of literature on the subject.
Information is key
But there are some basics that you should know, and you should be safe. So, before deciding on the actual exchange, you need to have some information to determine what is the best solution for you. Check your official exchange rate. This is rather easy with a currency convertor that will tell you the rate, as well as the total value of your money in the currency you need. If you are a more traditional type and want to change your money offline, you should know some tricks: airports, touristic areas, train stations don't offer you the best rates.
So, if you think about exchanging money in bureaus situated in the above areas, know that you will get less and maybe have higher fees than if you would make the same exchange at a bank for example. Use the calculator to verify this. Some exchange bureaus may have better rates, but unless you are a local, you will not necessarily find those. Therefore, a good option would be to make the exchange in your own country, to plan ahead.
Online has much to offer
Alternatively, if you prefer the online system, you have several options. And probably the best one is to pay with your credit or debit card, from the account that is in your own currency. The interbank exchange is among the most competitive in terms of currency exchange. But you will need to check the fees your bank has on transactions in foreign exchange and determine if this is less expensive than changing money in a bureau. The same applies when you withdraw money from an ATM. They will give you the amount in local currency and make the exchange directly. Again, this may be a good option instead of just exchanging offline.
Whatever the solution, one thing is clear when dealing with foreign currency: do your homework and plan ahead. If the local bureau or bank has a good rate, make the exchange offline. If not, plastic is the solution, use you card for payments or money withdrawals and make the best of your currency.
Photo: Flickr: Images Money