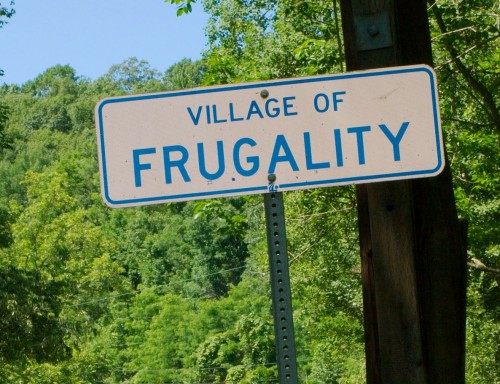 Last fall we had new neighbors move in next door. They seemed nice enough until spring came and I started hanging my laundry out on the line again. One day the lady of the house came over and said, "Can you not hang your laundry on the line? It's not nice to look at." I was floored.
First of all, my line is almost hidden from her view by my deck and a thick grove of trees. In order to see it at all, she has to make a special effort. Second, we have no restrictions in our neighborhood regarding clotheslines and almost everyone in the neighborhood has one. Third, I do take care when hanging out the clothes to ensure that my "unmentionables" are hidden behind towels, shirts, or other larger items. My skivvies aren't hanging out in the open. Fourth, I bring things in as soon as they are dry. I don't leave them hanging out for days. Because I try to be courteous and a good laundry hanger, I was surprised that my new neighbor had any objection.
My first thought was to say, "Look, lady. Get off my property and mind your own business." But instead I just told her that I would think about her request but since there were no rules against it, I didn't really see what the problem was." After she huffed off, I got to thinking. "What are my obligations to this neighbor, when giving in to her request will directly impact my financial well being, not to mention my personal enjoyment of sun dried clothes?"
This happens a lot in neighborhoods all over. Frugality clashes with what other neighbors think of as the perfect neighborhood. Maybe a neighbor objects to you turning your lawn into a food producing garden. Maybe the problem is that you're doing your own automobile repair work and the car is on jacks in the yard for a few days. Maybe you're keeping a couple of chickens for eggs. Or, as in my case, the problem is a clothesline. Do you try to make peace with the neighbor or do you give in, even if it means your happiness and finances take a hit? Or do you keep going as usual, disregarding the wishes of the neighbor?
The first consideration is whether or not you're operating within the rules. If your neighborhood has any rules against what you're doing and your neighbor calls you on it, then you have to abide by the rules. Even if other neighbors have let it slide before, your new neighbor has every right to object if what you're doing is against the rules. If you keep going, your neighbor can make a legal case out of it which can cost you more money than your frugality is saving you. You can certainly lobby to change the rules but barring that, you should stop what you're doing.
If there are no rules and the neighbors' objection is a personal preference (or a personal problem with you), then you have more room. You could just tell your neighbor to stick it, but that's not conducive to long term relations with these people. A better option is to try to work out a compromise. For example, you could agree that you will only hang out clothes on certain days and during certain hours. That way the complaining neighbor knows when you will be doing it and knows that there will be a finite end to the "ugliness." You could put up a fence to block your car repair work from their view. Or, you could plant a screen of flowers around your vegetable garden. If the problem is one with no simple solution, such as is the case with noisy or smelly frugal acts (like keeping chickens), then the solution might be more difficult to find. Maybe you could share the eggs with your neighbor, or find some other benefit to your project that the neighbor can enjoy.
If no compromise can be found, then you have to decide whether or not the fight is worth it. Do you want to keep doing what you're doing, even if it is angering the neighbors? Are you saving enough money or getting enough happiness out of the project that it's worth the strained relationship? Or are you just doing it to stick it to the neighbor? If you're getting enough value out of it to justify the other problems, then you might want to keep going. However, if the ugliness with the neighbors escalates, you might have to reconsider. If you're just doing it to stick it to the neighbor, then you have to ask yourself whether it's worth the bitterness on your end. If the joy in your frugality has turned to anger and bitterness, then what's the point?
So what happened in my case? I got lucky. I saw her outside one day and went to speak to her. I told her that I had considered her request, but that I would continue to hang out my laundry. I gave her all of my reasons and I told her of the measures I took to keep the disturbance to a minimum (the same ones I listed in the beginning of this piece). She told me that she understood and that she wouldn't complain any more, as long as I continued to be a good laundry hanger. I felt patronized, but I let it go in the interest of keeping things civil. I didn't mention that she's going to have this same battle with her other neighbor because she, too, hangs out her laundry. Since that neighbor isn't nearly as easy going as I am, the new neighbor is going to have her hands full. That will be my revenge.
(Photo courtesy of Matthew Hunt)