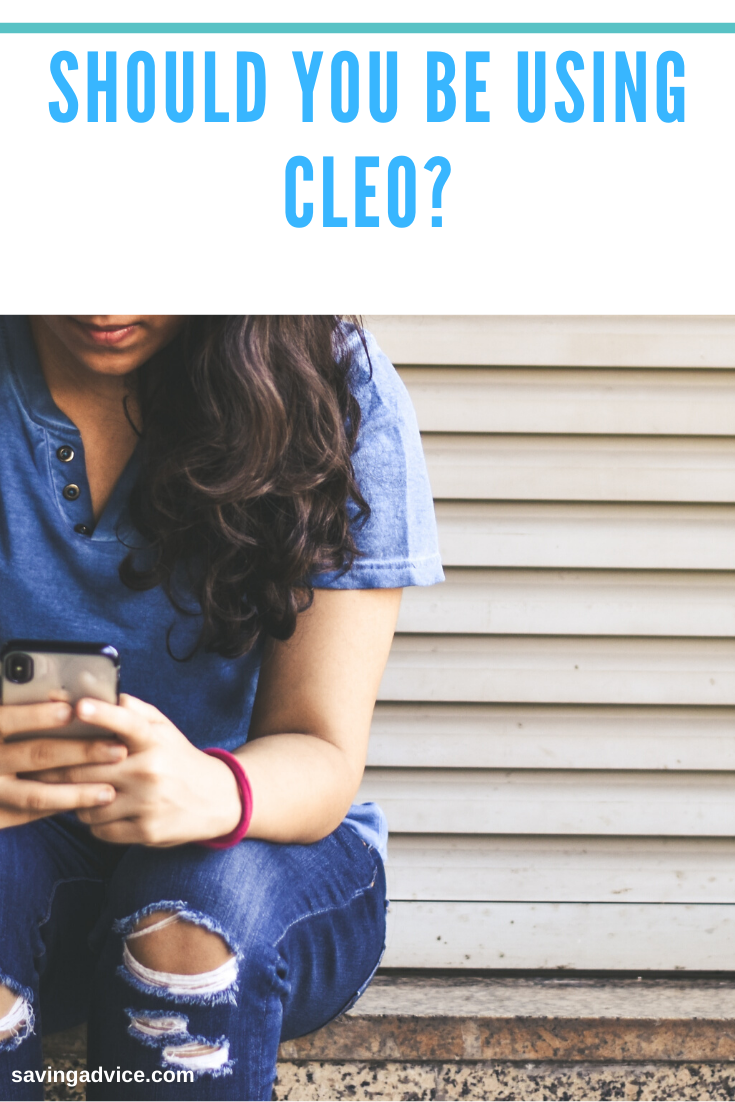 Over 2.2 billion people log into Facebook each month and Facebook Messenger, based on the number of downloads, is the top mobile app in the world. On a monthly basis, about 1.3 billion users send a shocking 8 billion messages on Facebook Messenger, reaching out to family and friends as well as businesses and their chatbots. Cleo is one such bot, created by a UK-based company to assist you with money management. If you are wondering whether this chatbot can help you master your finances, here's a look at what it does and why you may or may not want to use it.
What Cleo Is
Cleo is a chatbot that Facebook users can access through Messenger. Its creators wanted to design a mechanism that helps people understand their money, including how they spend and how to make better decisions. It uses artificial intelligence (AI) technology to assist users with budgeting, transaction tracking, and more. The AI skims through records, locates patterns, categorizes spending, and gives users insights into their habits and choices.
How Cleo Works
Anyone who wants to use Cleo first has to register. The AI needs read-only access to bank account data, so users have to connect any and all of the accounts they want to track.
Once the registration process is complete, Cleo scans the user's transaction history. It looks for trends and examines purchase habits. The AI can also help the user budget and provide quick access to a wide variety of information, such as bank account balances, whether a transaction clears, and more.
In total, Cleo can answer over 10,000 different questions, and the AI becomes more capable as users continue to interact with it. It also has a bit of a personality. When users have a conversation with Cleo, Cleo's responses might include emojis and gifs, which can make the process a bit more fun and quirky.
While many of the users favor the Facebook Messenger approach, you can also get information from Cleo using other methods. Cleo has its own app, allowing you to bypass routing your conversations through another system. There is also a web-based dashboard and a text messaging option. Additionally, you can connect to Cleo through Amazon Alexa and Google Assistant.
What You Can Ask
You can theoretically ask Cleo nearly anything, but it's answering capabilities are mainly focused on your financial situation and available data. As a result, you'll want to limit your questions to options like, but not limited to:
What's my current balance?
How much did I spend at [retailer] this week?
How does my budget look?
What bills are coming up this month?
When you ask a question, Cleo provides a fairly detailed response. Plus, it's incredibly quick, particularly in comparison to sorting through transactions on your own to monitor your spending or see if you're budget is on target.
Data Security
One thing that would be on any potential new user's mind is security. After all, connecting bank accounts to Cleo requires entering login credentials, and that would (and should) make anyone at least a bit cautious.
Cleo touts that it is both safe and secure, using bank-level (256-bit) encryption and security practices to safeguard data. Your bank login credentials aren't stored on Cleo's servers, and the AI has read-only access, so it can't facilitate transactions.
The company behind Cleo relies on Plaid – a fintech software solution used by companies like Venmo, Acorns, Coinbase, American Express, and more – to establish the connection between user accounts and the app.
According to Plaid, 10 of millions of North Americans have connected an account to an app using their system. Plaid is a leader in this space. So, if you've ever connected a bank account to a third-party app, there's a decent chance that Plaid made that possible.
However, it's important to note that neither Cleo nor Plaid is particularly straightforward about security measures. Partially, this is to limit the kind of details that would be available to cybercriminals. If either company was thorough on their website about security mechanisms, hackers would have a clear picture of what they would encounter. Ultimately, that could make the system easier to breach, since the security in place would be explicitly known.
Cleo's Privacy Policies
When using Cleo, users give the AI access to their transaction records and, in an era where data is a hot commodity for businesses, it's normal to worry about how the company plans to use that information.
When it comes to what Cleo does with user data, the company states it does not sell, distribute, or lease it to third-parties. Information is shared only when it is necessary while providing its services. Additionally, if you choose to close your account, any and all personal information is deleted. However, anonymous data will remain in accordance with Cleo's policies.
Overall, Cleo's privacy policy is very clear and fairly robust. It doesn't reflect anything one wouldn't expect, though, if you have concerns, it's wise to review it yourself to determine your comfort with it.
How Cleo Makes Money
Cleo uses a few approaches to make money. First, there is an optional subscription plan, so some users send Cleo money for additional features. Also, Cleo may recommend financial service alternatives and might receive compensation by acting as an affiliate.
There are other programs available through Cleo that could similarly provide the company with an income. For example, the Cleo Rewards program offers shoppers cashback, and Cleo might receive compensation from companies it lists.
It seems that Cleo's approach to making money isn't unlike many other personal finance apps that aim to help users improve credit scores, budget better, or otherwise improve their situation. However, the company isn't thorough about its income-earning options, so there could be other methods in use.
Meet Cleo Merchants That Offer Cash Back
The following merchants offer cash back when you use Cleo
Hotels.com
Expedia
Groupon
ASOS
Amazon
Uber
Uber eats
Top Ten Banks You Can Link With Cleo
Chase
Wells Fargo
Bank of America
Navy Federal Credit Union
PNC
Capitol One
Chime Bank
USAA
US Bank
RBC
Royal Bank
Should You Use Cleo?
The lack of additional security details may give some users pause. With Plaid's widespread use by financial giants, that should at least be a degree of reassurance. Additionally, Cleo's privacy policy seems reasonable, and the company confirms it uses 256-bit encryption, which is a banking-level standard. However, giving over details when you create any new account introduces more risk, so keep that in mind.
Beyond that, Cleo doesn't technically offer anything new in regards to most of its functionality. You can achieve similar results with other personal finance apps and software, including options like Mint. The difference is mainly in how you get the details you want. Cleo supports a conversational approach that streamlines that part of the experience. Since Cleo has over 2 million users and has held over 161 million conversations, it's clear that many people appreciate that feature.
Cleo Could Be A Good Choice
If you want to learn details about your financial situation by engaging with a chatbot, then Cleo could be a good choice. It doesn't appear to be any riskier than other personal finance apps that connect to your bank account. However, if talking with a bot isn't something you want to do, and you use other personal finance software to bring your account data together, then you might not have a need for Cleo. In that case, sticking with what you have usually makes more sense.
Have you tried Cleo? If not, would you consider it, or does the idea make you too nervous? Share your thoughts in the comments below.
Read More:
If you enjoy reading our blog posts and would like to try your hand at blogging, we have good news for you; you can do exactly that on Saving Advice. Just click here to get started.