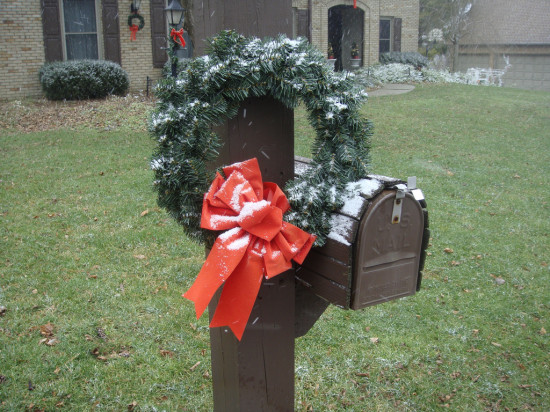 If you are planning to send out Christmas cards and packages this year, it's important to know the last day to send those items so they reach the recipient before Christmas Day. Make sure you check the last day to send Christmas cards and gifts with USPS to ensure your packages and cards arrive at their destinations before December 25th.
What's the last day to send packages through standard mail?
Friday, December 14, 2018 is the last day you are able to send packages through the post office at the standard postage rate for them to arrive by Christmas Day. This is the least expensive way to send packages. While you can send packages other ways to ensure they arrive before December 25, they will cost more money.
Be warned, you will likely be standing in long lines if you do take your packages to the post office on December 14, because it's during the busiest time – which according to USPS begins December 10 and lasts about two weeks.
When's the last day to send Christmas cards?
Thursday, December 20, 2018 is the last day you can post Christmas cards if you want to make sure they arrive before December 20th. Thursday, December 20, is also the last day you can send packages using USPS First Class (up to 15.99 ounces) to guarantee they arrive and are under the tree when the kids wake up on Christmas morning.
When's the absolute last day to send packages to arrive before Christmas?
Saturday, December 22, 2018 is the very last day to get a package to its destination in the U.S. for those who wait until the last minute. This can be done by using Priority Mail Express. You can also use FedEx and UPS next day service.
When's the last day to send packages internationally?
For those sending packages to countries outside the U.S., the last day to send them out using the USPS Global Express Guaranteed shipping option to arrive before Christmas Day are as follows:
Africa: December 19
Asia / Pacific Rim: December 19
Australia: December 20
Canada: December 19
Caribbean: December 20
Central America: December 18
Europe: December 20
Mexico: December 19
Middle East: December 20
New Zealand: December 20
South America: December 18
Although Post offices will be open on Christmas Eve keep in mind that cards and packages sent on the 24th won't arrive in time for Christmas.
Read More
(Photo courtesy of Thomas Lillis IV)