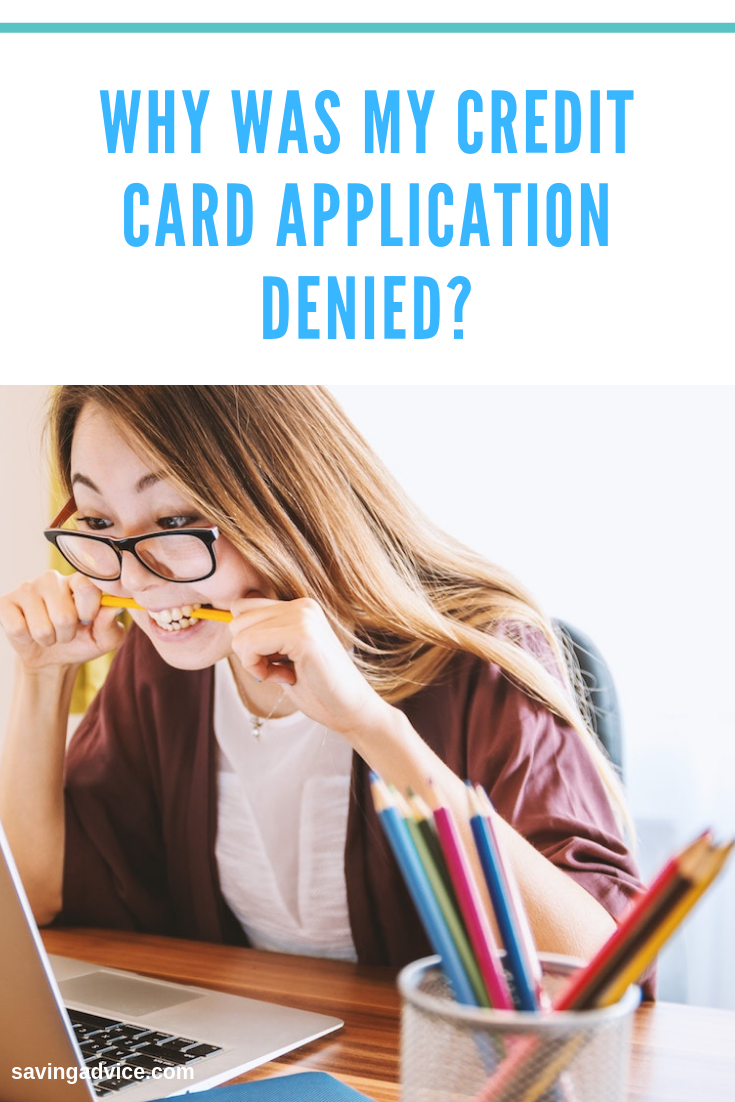 Every once in a while, I'll fill out a new credit card application.  Usually, I research first, and I only apply if I am reasonably certain that the company will approve my application. However, now and then, I have to deal with rejection. When I was younger, this would frustrate me immensely. Over time, though, I've learned to cope with credit card application rejection. I see it as a learning opportunity. Taken that way, it's just information that can help me move forward. Here are some of the reasons your card application might have been denied.
Rejection Is Painful, But It's Not the End of the World
Rejection of any kind feels painful. Yes, even credit card application rejection hurts a little bit. After all, the credit card company is basically telling you that you're not trustworthy enough to deserve their loans. If you've worked hard to establish good credit, rejection can be particularly painful. That said, it's really not the end of the world.
Believe me, I know that it can feel like it. For me, the worst times are when I've applied for a new credit card because I really need that money. I'm already in a state of fear, so the rejection hits me worse than ever. I feel bad about myself because I didn't get the money. Plus I feel anxious because I don't know where the money will come from. However, even though it feels terrible, it's going to be okay.
So, the first thing that you should do after a credit card application rejection is just to breathe. Relax. Try to calm your mind. Center yourself. If you let yourself spin out of control, you're not going to handle this as well as you should.
Use the Information to Take Action
When a company denies your credit card application, they provide you with a reason. These days, we usually apply online. We don't usually get the rejection immediately. Instead, it comes in the form of a letter mailed to the house about a week later. Keep your eye out for the letter. It has important information that you need to be able to decide on your next steps. The rejection feels disempowering. However, the information in that letter actually empowers you to move forward.
Is the Rejection Valid?
That letter tells you the reason(s) that you received the rejection. The first thing that you need to do is to make sure that the reasons listed are accurate and valid. Sometimes credit card companies do get it wrong. Sometimes your credit report has incorrect information. Look at the list of reasons, pull your credit report, and make sure that the credit card company got it right.
For example, let's say your rejection was because of delinquent payments. However, you know that you have never made a late payment. Pull your credit report and look for signs of late payment. If you see some that you know are wrong, then it's time to update your credit report. You can file an appeal with the credit reporting agency for review. Once your information is up to date and correct, you can re-apply for a credit card.
The Rejection is Valid. Now What?
Of course, more often, the reasons listed for rejection are accurate. You really did have late payments, for example. Don't worry; all is not lost. This is still valuable information that will help you get back on track with your finances. As you do, you'll increase the likelihood of credit card application acceptance in the future. Here are some of the most common causes for application rejection and what you can do about them:
Low Credit Score
If you have a low credit score, you won't qualify for certain credit cards. There are two things that you can do about this:
Work to improve your credit score.
Apply for a credit card within your approved score range.
If you need a new credit card immediately, then it's worth doing the latter. In either case, it's time to start working on the former. The better your credit score, the better options you'll have in the future.
Low Income
Some credit cards only accept people with a minimum income. If you've been rejected because of low income, then it's time to review that. If you do earn a decent amount of money, then you've probably just applied for a fancy credit card that's out of your range. Apply for one that doesn't require such high income. Alternatively, of course, you can work to increase your income. If you take on part-time work or extra hours this year, then you should be able to qualify for that card in the future.
Debt-to-Income Ratio
Sometimes it's not that your income doesn't cut it. Instead, it's that your debt is too high, compared to the amount of income that you earn. Again, you can work to increase your income. Alternatively, or in conjunction with that, you'll have to work to lower your debt. This is the kind of situation where it might make sense to consolidate your existing debt under a lower APR so that you can start paying it off more quickly.
If your debt-to-income ratio isn't great, then it's important to think carefully about whether or not you really need a new credit card. It may feel like you do since you want the money. However, remember that you're already struggling to pay down existing debt. Taking on more credit card debt might not even make sense at this time. Instead, it could be time to rework your budget.
Note that credit card companies might look at all of your loan debt, not just your credit card debt when making these decisions. Therefore, if you have student loans, mortgages, auto loans, and other types of debt, these could be what's affecting your ability to get a credit card.
High Balances
Maybe you have credit cards, you pay the minimum balance on time, and you earn enough to cover repayment. However, for one reason or another, you're running high balances on your cards. In other words, one or more cards is close to its credit limit. That's a red flag for credit card companies. If you find out from your rejection letter that this was the cause for rejection, then it's time to start paying down that debt. If you can get the balance down below 30% of the credit limit on each card, then you are more likely to qualify for a credit card next time that you apply.
No matter what caused the rejection, it's information that you can use to improve your chances of getting a credit card in the future. Take the long view but begin working today to remedy the problems.
Read More: