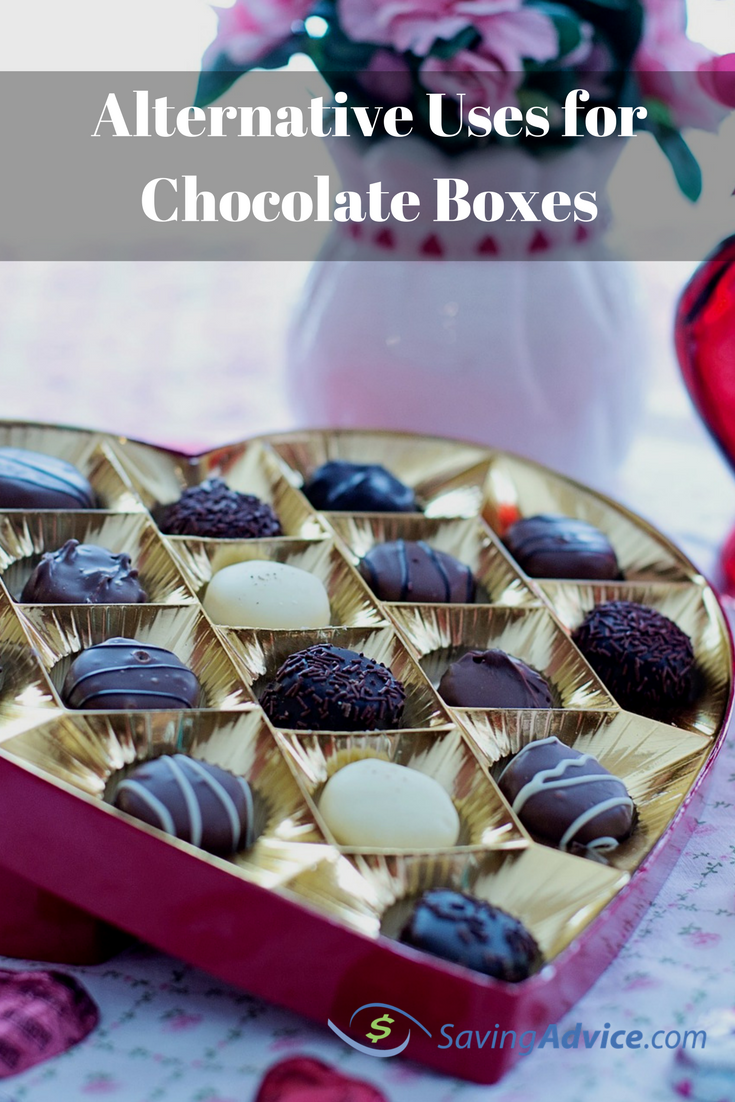 In a few days, we will be overrun by chocolates and stuffed animals, not to mention the colors red and pink. Valentine's Day is the holiday critics love to hate, but it won't stop that one holiday-loving co-worker from leaving you a cute sentiment in the form of assorted candy. (And who would want to prevent your work friend from doing such a thing?) But, as great as it is to receive these delicious guilty pleasures, it leaves us with perfectly reusable boxes that end up going to waste. That is, until now. Here are some creative alternative uses for chocolate boxes that
environmentalists
everywhere will love.
Storing Letters and Notes
Take out the plastic insert and simply use the decorative box for storing letters and notes. It's a cute way to maintain these keepsakes while also recycling. You could also take it one step further with decoupage and redecorate the box with clippings from magazines or newspapers.
Napkin Holders
Use the cardboard from the boxes to create napkin holders. Simply cut the box into thick strips, glue a fabric of your choice around the pieces and then glue the ends together to make a ring. Check out this tutorial that not only gives an interesting and fun spin on napkin rings but walks you through the process as well.
Cards
Alternative uses for chocolate boxes are seemingly endless. Another would be to turn them into cards. Cut out parts of the design you like best and use for thank you cards or other nice sentiments. Boxes that already include cute messages could be incorporated into your craft.
Homemade Chocolate Box
Who says you have to tear apart the container and turn it into something new? You could make your own chocolates and use it to repackage and gift your homemade treat to someone else.
Ice Trays (For the Plastic Inserts)
Reuse the plastic inserts to make ice cubes or even other tasty frozen treats. If you use a fruit juice, you can make popsicle-type goodies for the little ones. The environment (and your kids) will thank you.
Planter Box
Save money on planter boxes by making your own with the chocolate boxes. Line the box with a plastic bag with a few holes poked in it (for drainage). This can especially be great to do if you live in an urban area. See how this blogger made hers for inspiration.
Jewelry Box
Jewelry boxes can be pricey at times, so why not just make your own? If you receive multiple boxes of chocolate this holiday (lucky you) you could make multiple jewelry boxes and gift them to others, each with a special design. We like this DIY tutorial for this craft by Muhaiminah Faiz over at Instructables.com.
Cat Scratcher
When it comes to scratching, cats can be relentless. Give them something they can really sink their claws into (and save your furniture) by making them a cat scratcher out of your Valentine's Day chocolate boxes. Pinterest has a variety of ideas to make these for your feline friend, some that even look like furniture.
---
Hopefully, you will find these alternative uses for chocolate boxes useful this season. What would you add to the list?