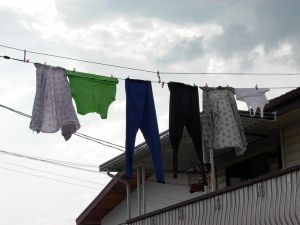 Dryers are quite convenient, but they are also an expensive convenience. In fact, most electric clothes dryers use roughly 5 kw of energy which is more than most central air conditioners. If you dry an average of a load of laundry a day, you are paying about $150 a year to dry your clothes.
The best saving advice is to just not use your dryer at all. Hanging clothes on a clothes line may seem old fashioned, but it gets the job done and doesn't cost a cent in energy costs. There are even convenient clip hangers or indoor drying racks that you can get at most discount stores which allow you to dry your clothes indoors if you neighborhood has regulations that forbid you to dry them outdoors.
If you do have to use your dryer, let the clothes naturally dry as much as possible before putting them in the dryer. Simply leaving them in a basket and letting the sit for a few hours after a wash instead of putting them directly into the dryer can save up to 25% (or $40) on your energy bill. Placing them on an indoor rack to dry first and then using the dryer only to dry them that last little bit and to take out the wrinkles can save up to 75% (or over $100).
Another simple step you can take is to clean the lint tray every time before you use the dryer. The dryer has to work harder, which costs you money, when the airflow has to pass through accumulated lint. Just letting clothes sit a bit before drying them can take a nice chunk out of your energy bill.
For more tips to reduce the energy costs associated with using your dryer, you can visit Dryer Tips To Save Money