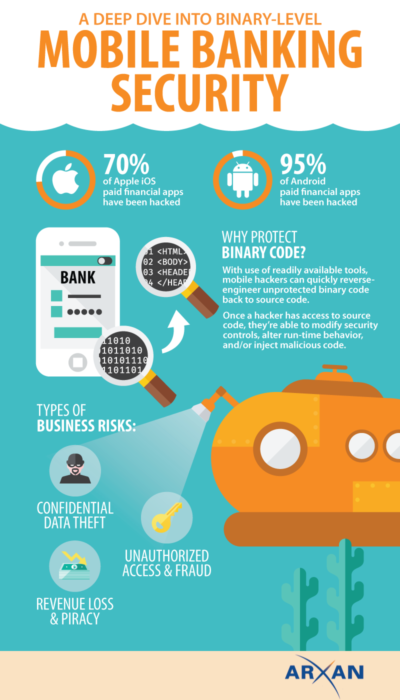 Mobile Banking Security
Before mobile or online banking, people visited a branch of their bank in order to complete their business. Today, most regular banking business can be done from your smartphone in your hand no matter where you are. However, with this extra convenience comes a cost. A surprisingly large majority of mobile phones and apps have been hacked, costing people their private information and costing businesses money. There are a number of steps consumers and companies can take to protect private information being transferred through financial apps.
Public Networks
Public networks are known to have poor levels of security. As a consumer, connecting to public wi-fi may seem like a great way to conserve your data, but signing into important apps, like a banking app, is a bad idea. When you are connected to a public network, you could be vulnerable to hackers simply because you are connected to the same network with minimum security. To safeguard your information while you are connected to public wi-fi, do not sign into multiple accounts with the same password, do not stay signed into important accounts, and only sign-in to sites that are encrypted.
Trusted Apps
Most consumers believe their mobile phones are immune to viruses and malware, unlike regular computers and laptops. However, your cellphone is a handheld computer and they are vulnerable to attacks by malicious code installed in apps. A hacker can easily create an app that's designed to steal someone's private banking information that looks like it should be a trusted app. Therefore, people should be very cautious when choosing apps to download; only download apps from trusted companies.
Secure Binary Code
For app developers and companies who market apps, it's important to protect the binary code within the banking app. Hackers can be sophisticated enough to reverse-engineer the binary code back to it's original source. From there, malicious code can be added the app and a consumer could be sending personal and sensitive information unknowingly.
For a consumer, protecting your personal information exchanged through financial apps and becoming educated on the ways to protect yourself is important. For companies, taking the time to harden applications before pushing them to market is important to safeguard the trust and information customers put in your hands, and to save your company money in the long-run.