When I wrote Financial Challenge #7, I received a number of emails (and one comment) from people who said the "peace of mind" that the money in a savings account gives them is important. While it's important to do what is best for you, it is also important to realize that this "peace of mind" is an illusion and in the end will cost you extra money.
First off, I believe it's important to look at money as a whole. Individuals are simply fooling themselves believing that having an emergency fund in a savings account means that they have money in case of an emergency when they are also carrying credit card debt. Many people try to use online loans as emergency options as they are very simple to obtain, however these are not the same as having cash in the bank as an asset. While this may give you some peace of mind, it's a false peace of mind – you will never really have a true emergency fund until all your credit card debt is paid off…it's as simple as that.
If that is the case, then the goal should be to pay off the credit card debt as quickly as possible so that you can build a true emergency fund instead of one built on a false foundation. Let's take a look a the same scenario with the two approaches:
Two individuals have $5000 in credit card debt at 18%. Both currently have $1000 in their emergency savings account. The minimum payment on both cards is $100 and each has found a way to put aside and extra $100 a month. Individual A (Bob) wants to build a $2000 emergency fund to feel safer and have "peace of mind" before beginning to pay off the credit card. Individual B (Mary) decides to put all the money towards their credit card debt. Unfortunately 12 months after both of them begin their plan, there is an emergency that requires them to pay $2000 – which one ends up paying off their credit card first?
Here is how the money works out:
Individual A:
For 10 months Bob pays the minimum on the credit card which brings the credit card down to $4732.43 and by placing $100 into the savings account, Bob now has a $2000 emergency fund he wanted. For the next 2 months he can place $200 toward credit card debt which brings the total down to $4472.47. Then the emergency happens out of the blue costing $2000. Bob feels fortunate that he has the $2000 in savings to cover it, but his emergency fund is now down to $0 so he spends the next 20 months building the emergency fund back up to $2000 and only pays the $100 minimum on the credit card. At the end of these 20 months the credit card is down to $3711.40 and Bob once again has his $2000 emergency fund and can pay an extra $100 toward the credit card. It then takes another 22 months for Bob to completely pay off his credit card for a total of 54 months or 4.5 years (plus he has $2000 in the bank)
Individual B
Mary decides to bite the bullet and put all her effort into paying off the credit card debt. She has a $1000 emergency fund, but it's only paying a few percentage points in interest while her credit card is costing her 18%. She withdraws the emergency fund money and places it toward the credit card debt bringing the total down to $4000. For the next 10 months she pays the $100 minimum plus another $100 toward the credit card debt which brings the total down to $2174.23. At this point there is an unexpected emergency that costs $2000 and since she doesn't have any money in the bank, she has to place it onto her credit card. This brings the credit card total up to $4501.62. She wonders if she made a mistake by not creating an emergency fund like Bob. She continues to stick with her plan even with the setback and is able to pay off the credit card bill in 28 months for a total of 38 months (3.16 years). Mary then places the $200 a month into a savings account for a future emergency fund and comes out with an extra $1200 ($3200) than Bob in her savings after 54 months.
If there is no emergency in the 12th month, the numbers are even larger in favor of Mary. Bob takes a total of 40 months (3.3 years) to pay off his credit card debt and has $2000 in the bank. Mary takes 24 months to pay off the credit card debt and after 40 months has $1200 more than Bob ($3200) in her emergency fund.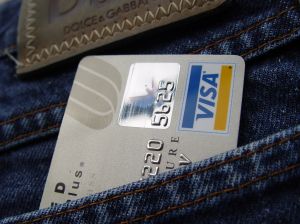 Both scenarios show that building an emergency fund before paying off credit card debt is a waste of money. While it may give you a sense of "peace of mind" this is a false sense that is actually costing you more money.
When you begin to pay down credit card debt, it frees up space under your credit card limit and this can be used as an emergency fund. In fact, if you are dedicated to paying off your credit card debt, you will know that it's truly an emergency if you have to place something on the credit card because it goes against what your goal is. This is using the credit card to your advantage instead of letting the credit card take advantage of you and that is ultimately the personal finance skill you want to develop to make the most of your money.