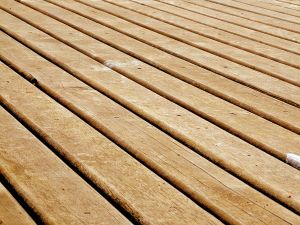 My mom wants to get a new deck for her house. The old one is quite old and really needs to get replaced. She wants it to be a good medium grade redwood. The problem was that I had absolutely no idea how much a deck should cost.
The first thing I did was make some calls to people who build decks to come out and give estimates to the job. I was shocked at the wide range of bids we received. We gave the exact same information to each contractor, but the estimates ranged from $2000 to $4300 for the deck. This really goes to show that when you are having work done, it is well worth your time getting a minimum of 5 estimates.
I briefly thought of trying to put the deck in myself, but I think it would be a bit beyond my ability and time restraints. We still haven't decided which bid to accept, but will probably do so this week. We are ruling out the lowest bid because we didn't feel comfortable with the person who made it. Sometimes you just get that feeling that you will be disappointed with it even if it is the least expensive and that is they way we felt after talking with him.
The question is now whether to take the second or third lowest bid. We liked the contractor that gave the more expensive bid (he spend more time detailing exactly what he would be doing, about the wood he'd be using and options we had), but feel his bid is a bit high. I will call and if we can get him to lower his bid to be a bit closer to the lower bidder, we'll go with him. If not, we'll likely pass and go for the contractor that gave the second lowest bid.
While getting this all sorted out has taken quite a bit of time, those 5 extra hours probably will save us $1000 or so.