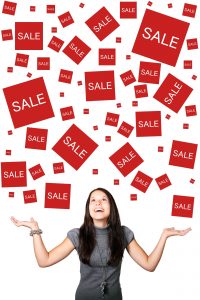 Do you know what stores are open on Labor Day?
Labor Day marks the end of summer and the beginning of the new school year. Thus, many people try to make the most of this final summer holiday. That means it's time for picnics, seeing friends you might not have seen in a while, or doing some home decorating you're been putting off during your busy summer. If any of these sound like a good plan to you, then you'll need to know if Whole Foods, Starbucks and Bed Bath and Beyond are open on Labor Day 2016, which falls on September 5th this year. Below, we take a closer look at the Labor Day hours for each of these stores.
Is Whole Foods Open on Labor Day?
Yes, Whole Foods is open on Labor Day.
Those of you planning on having one final outdoor barbecue of the summer will be pleased to know that Whole Foods is open on Labor Day. Of course, the decision is on a store by store basis, so call ahead to make 100% sure your local Whole Foods is open. But, the chances are very high it will be. Whole Foods ran their Labor Day sale from August 30 to September 2, so hopefully, you were able to stock up on your favorite party foods like burgers, chips and various salads, sweet corn on the cob, and even yellow-fin tuna. Sale items usually always vary from location to location, so check your local Whole Foods to see which party items they have on sale and then go have yourself one final barbecue party.
If you did miss Whole Foods' Labor Day deals, you will still be able to find discounts at the shop the rest of the weekend using their app. This app gives you exclusive coupons, not to mention delicious recipes to try and local store information. This is one of the best ways to learn about daily sales.
Also important to mention is that in the U.S. stores, you can get animal welfare rated beef or chicken kabobs for $6.99 per pound until Tuesday, September 6. Talk about a nice last-minute deal for your cook-out!
Even though each stores sales differ, you can search your store on the Whole Foods website to see what daily and weekly deals are available. Most do offer discounts on produce, meats and other common grocery items. Each Whole Foods store also seems to have weekend deals each week.
Is Starbucks Open on Labor Day?
Yes, Starbucks is open on Labor Day.
In general, Starbucks stores remain open on every holiday throughout the year. That said, Starbucks coffee shops are not required by the corporation to adhere to any company-imposed set of hours, so franchise owners are free to set whatever opening and closing hours they feel are appropriate. The best way to find out if your local Starbucks will be open is to check the store locator. It's likely they will be, so if you want to set a coffee date with a friend you haven't seen in some time, Labor Day might be the perfect time to do so together at a Starbucks.
Starbucks also pushed their Labor Day special on Friday (30% off select items), but there are many more deals to be had. With a little click of the finger, you can receive deals like up to 30% off and 5% off coupons on RetailMeNot, along with $20 off and up to 50% off drinkware at the Starbucks Store from Groupon.
Is Bed Bath and Beyond Open on Labor Day?
Yes, Bed Bath and Beyond is open on Labor Day.
While most stores will be open, even the Bed Bath and Beyond website itself states that store hours may vary during the holiday and back to college season. Therefore, as with Starbucks and Whole Foods, your local store may be open on Labor Day, but with different hours than normal. Checking the store locator is a quick and easy way to know exactly what hours to expect your local Bed Bath and Beyond to be open.
To celebrate Labor Day, Bed, Bath and Beyond is having a store-wide clearance and savings sale both online and offline. There are sales happening beyond Labor Day as well.
For 20% off one single item online (with some limitations), all you need to do is join their e-mail list as a first-time subscriber. The offer is only valid for 48 hours, though, so be quick. In addition, the store is having a Mattress Savings Event, where you can receive an up to $300 gift card with your purchase from now through September 12. Coffee lovers can also save 25% on Nespresso brand machines. Plus, if you need a new vacuum, you can save up to $150 on select Dyson vacuums until September 17.
Whether you're looking to have a final barbecue with friends, do some home decorating, or simply chill out with a coffee or tea it's good to know that Whole Foods, Starbucks and Bed Bath and Beyond will all be open on Labor Day 2016.
See what other retail stores may be open on Labor Day here.
Do you have any deals to add to the list?