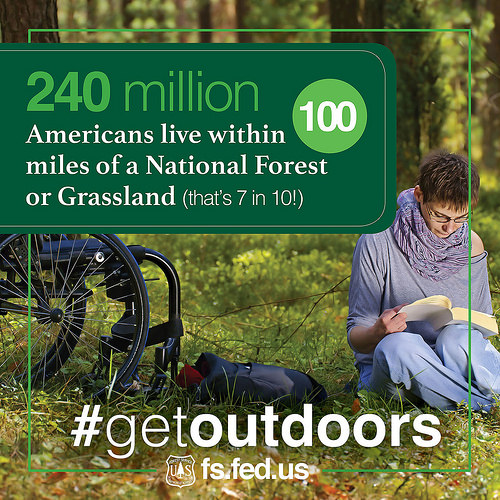 Saturday, June 13, 2015, has been designated as a national day for you to get outside.
National Get Outdoors Day
(referred to as "GO Day") will be celebrated for the 8th time since being started in 2008. The day hopes to encourage families to participate in healthy and active outdoor activities, and especially to inspire first-time visitors to visit public lands.
One of the best ways to encourage people to participate in Go Day is to make it as easy as possible for all to enjoy the great outdoors. One barrier to enjoying public lands can be the cost of entrance fees to get into them. With this in mind, the US National Forest Service has announced they will be waiving all entrance fees to US national forests on Saturday, June 13, in honor of GO Day. That means you can visit any of the over 150 areas which fall under the National Forest Department's jurisdiction, and they will not have an entrance fee on Saturday. If you're not sure what national forests are near you or located in your state, you can see the National Forest's state list.
As part of the GO Day celebration, most of the national forest sites will provide recreational and educational activities at no cost. There will be a wide range of activities depending on the location, but many have been created in an effort to engage youth from urban areas and multi-cultural backgrounds. In some areas, you may even have the chance to meet Smokey the Bear.
It's important to note that while entrance fees for day-use areas such as hiking trails, picnic grounds, and destination visitor centers will all be free to enter, not everything will necessarily be gratis inside the national forests. While the National Forest Service encourages concession-operated sites to participate, they may still have a fee. Also, campground fees will still be applicable for those who want to stay the night inside the national forests. If uncertain, it's best to contact the national forest or grassland you plan to visit to find out exactly what fees have been waived during GO Day.
While national forests sometimes get overlooked when compared to national parks, they do provide a tremendous opportunity for everyone to enjoy the outdoors. US national forests have over 158,000 miles of recreation hiking trails, hundreds of wild rivers and streams, as well as thousands of lakes, campgrounds, and day-use sites. Many of the national forests also have visitor centers which give those visiting the opportunity to educate themselves about the nature and plant-life in the area.